WARNING:
NEVER DRAUGHT PROOF A HOME THAT STILL BURNS GAS.
Carbon Monoxide emitted when gas is burnt.
Carbon Monoxide is odourless, invisible, tasteless… and deadly.
Vents
How to seal air vents in your home to improve energy efficiency
There are several common types of vents that are likely to be letting draughts into your home:
Fixed wall vents
Floor vents from decommissioned heating system
These types of vents need to be properly sealed so that your home is more efficient in the way it uses heating and cooling energy. This will make your home more comfortable to live in, while also saving money on your energy bills.
It is important to note that if you are still using open fireplaces or gas for heating and cooling systems in your home, it is recommended that you consult with a professional before you decide to seal off all your vents. This is because Carbon Monoxide (CO) can be a very dangerous gas and you need to make sure that you take all necessary safety precautions to protect yourself and your household members from potential harm.
Fixed Wall Vents
There is a lot of debate about whether or not to seal wall vents.  There is one important consideration when it comes to blocking wall vents. If you have gas appliance with an open flue, you should make sure it still has enough air supply. This will probably mean keeping the wall vents open in that room.
In the past, homes were built with wall vents and no insulation. We used open fires and gas heaters without flues. But times have changed. Now we build homes without wall vents and with insulation. We no longer have fires inside the home, and our heating systems do not pollute the air. Hopefully, even if your home is from an older era, it is moving towards this newer approach.
Sealing your wall vents is generally a good idea. Just remember, only seal the internal air vents, not the external ones. The external vents are there to ventilate the wall cavity.
There are different types of wall vents, and not all of them need caulking. The first step, regardless of the type, is to clean them thoroughly.
Here's how to seal fixed air vents with FulaSeal Ultra Clear gap sealant
In some older homes, especially those in Victorian or Edwardian styles, the vents may be larger than the one demonstrated in the above video.
If you have a larger vent, you can fill in the outer section of each vent with Fuller's Ultra Clear Seal the same as shown in the video.
Give it time to set and then apply more Ultra Clear to the inner part of the gap. Repeat this process until you have filled the gaps completely, making sure to follow the clean and wipe instructions as shown in the video as you proceed.
Although this process may take longer, the result will be just as effective, and using the recommended Fuller's Ultra Clear Seal, which dries clear, will help maintain the original attractiveness of the air vent.
Vents from a Decommissioned Heating System
You've replaced your old gas ducted heating system. Congratulations! However, the outlets in your floor that used to let in heated air are now letting in uncontrolled draughts, so they need to be sealed. The disused heating system's return air duct, which you will find behind a grille, will also require sealing
Here's how to seal disused heating outlets and return air ducts with ecoMaster's Goodbye Heating Vents kit.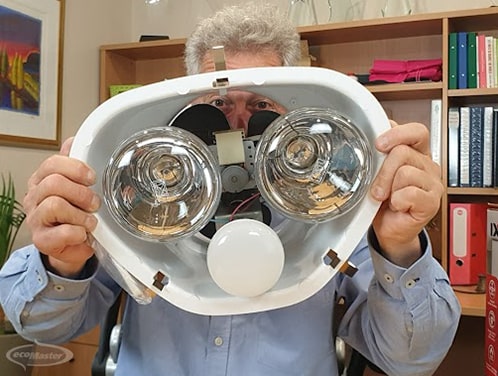 Example of Modern 3 in 1 exhaust fan.
Ceiling Exhaust Fans
Sealing exhaust fans in your ceiling reduces air leakage for you to control the ventilation.
Just about every Australian home has a ceiling exhaust fan in the bathroom, and often in the laundry, toilet or kitchen as well. Modern bathroom exhaust fans are often incorporated into a 3-in-1 unit with lighting and heating – or you may just have the traditional stand-alone model. But regardless of the type of ceiling exhaust fan your home possesses, the one thing they all have in common is that they're a major source of uncontrolled draughts.
Control draughts through ceiling exhaust fans with a Draught Stoppa (link to product in ecoMaster Store). Learn more about sealing the traditional type of exhaust fan in this video
Draft Stoppa – What is it… and Why do I Need it?
If you have a 3-in-1 unit you will need to also install an Adapter Plate. Find out more about it in this video and ensure that the fan switch is rewired to ensure that the fan is always activated when the heater is on.
3-in-1 Adapter Plate Installation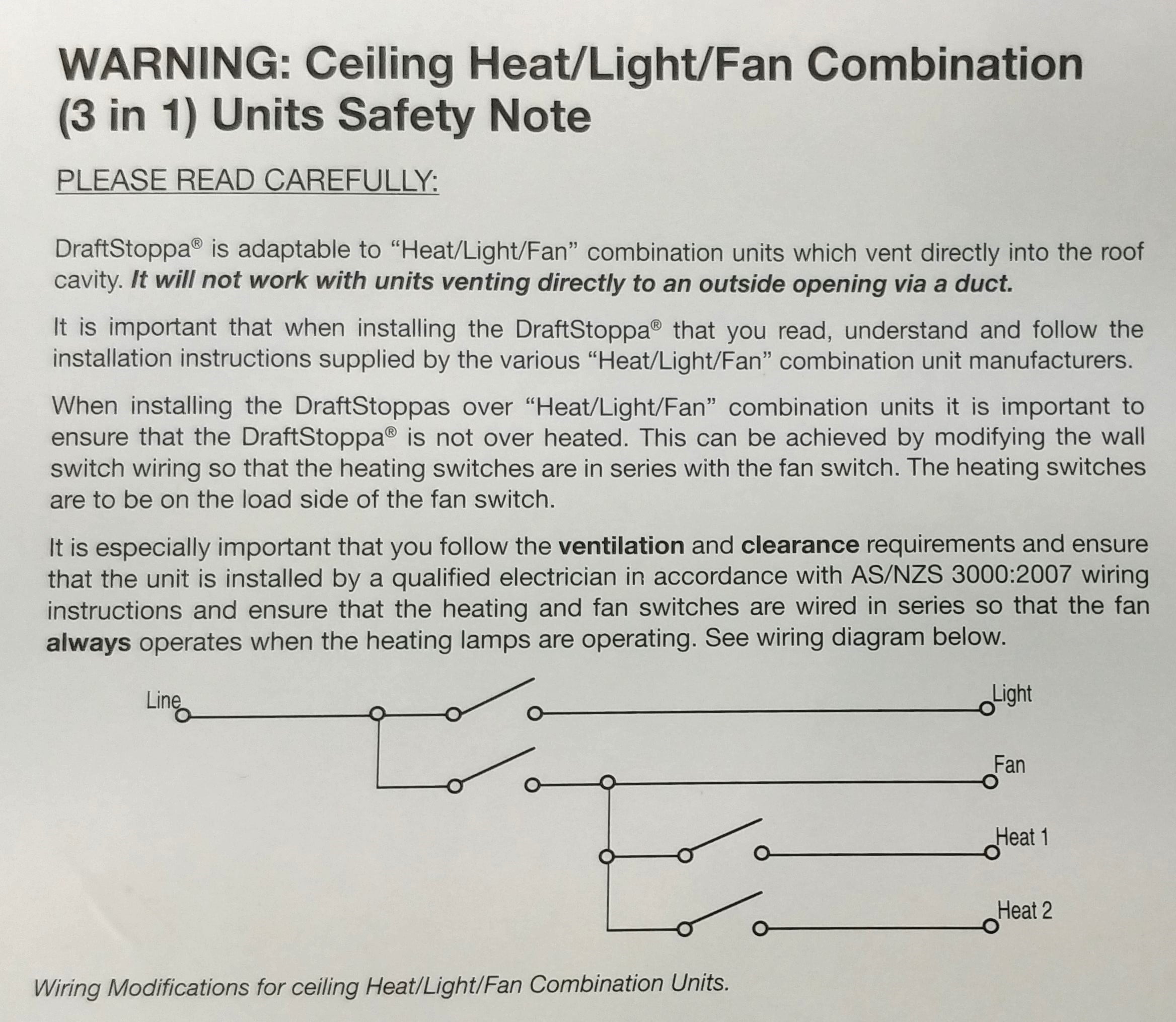 You can read more about sealing vents and fans here