We offer a range of energy efficiency training courses including tailored training for groups.
Autex has recently re-tested its range of acoustic wallcoverings and insulation products in accordance with the National Construction Code (NCC) Specification C1.10-4 to AS ISO 9705-2003 as outlined in the Building Code of Australia.
The test determines how the surface lining materials perform in the event of a fire. The 20-minute test replicates an actual fire scenario and comprises of exposing the materials to a 100kW fire for a period of 10 minutes then the fires output is increased and the material is exposed to 300kW for a further 10 minutes. The results are broken down into Groups 1 2 and 3 which are determined by when the flashover point is reached
Group 1:  No Flashover point reached during the length of the test (this is the best possible rating).
Group 2:  Flashover point reached between 10 and 20 minutes.
Group 3:  Flashover point reached between 2 and 10 minutes.
Autex has tested it's GreenStuf® insulation range in accordance with these standards and GreenStuf® products are fully compliant for all areas.

Wall and ceiling lining materials for building classes 2-9 must be assigned a Material Group number of 3 or greater. In June 2012, the implementation of amendment 1 came into effect to the following standard AS/NZS 3837. Materials that melt and shrink away from a flame (such as thermoplastics like polystyrene and/or materials with reflective surfaces such as foil-faced insulation) can not have a valid group number calculated via data obtained from this test method. These materials and other profiled materials must have their group rating obtained via the full room test method which is ISO 9705-2003.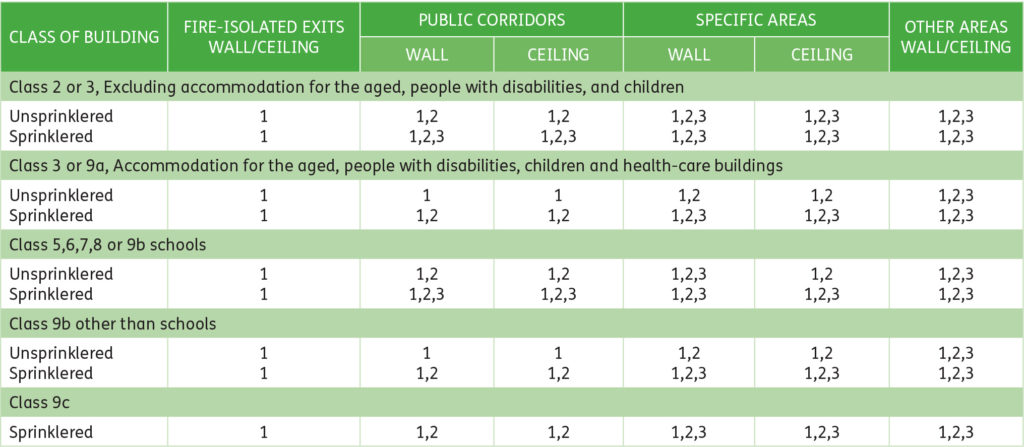 For the purpose of this table:
1. "Sprinklered" mans a building fitted with a sprinkler system complying with Specification E1.5.
2. "Specific areas" means within:
(a) for Class 2 and 3 buildings, a sole-occupancy unit.
(b) for Class 5 buildings, open plan offices with a minimum floor dimension/floor to ceiling height ration >5.
(c) for Class 6 buildings, shops or other building with a minimum floor dimension/floor to ceiling height ratio >5.
(d) for Class 9a health-care buildings, patient care areas.
(e) for Class 9b theatres and halls, etc. an auditorium.
(f) for Class 9b schools, a classroom
(g) for Class 9c aged care buildings, resident use areas.
Note: Materials lining buildings not fitted with a specification E1.5 compliant sprinkler system must:
i) Achieve a smoke growth rate of less than 100 or
ii) Achieve an average extinction area less than 250m2/kg
All Autex Group 1 products have a smoke growth rate of less than 100 and can be installed in unsprinklered buildings.
For more information please refer to the Building Code of Australia
or contact ecoMaster on 1300 326 627.