Ventilation – control your indoor ventilation
Draught Proofing is the simplest, easiest and cheapest way to control air ventilation in your home.
Save between 20% and 70% on your energy costs.
What is Draught Proofing and Why Do It?
Draught proofing is the use of many different products for different areas of your home to prevent warm air from escaping in cold weather and hot air from entering your home during summer.
Draught proofing with quality products achieves 3 primary  benefits for you:-
You are going to feel more comfortable in your home throughout all weather conditions.
You will save significantly on your energy costs.
Puts you in control of the ventilation in your home.
Draughts are uncontrolled forms of ventilation and the key to achieving the 3 primary benefits is to find and fix the air leakage in your home.
Warning:  carbon monoxide – if gas is used in your home for heating or cooking please consult a professional before undertaking draught proofing works.
Carbon monoxide poisoning can be lethal if your home is not adequately ventilated.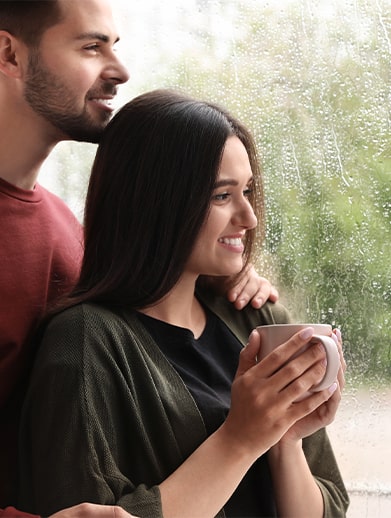 Caption: Sealing out air leakage and insulating your home with insulation bats makes you feel so much more comfortable during Australia's changing weather conditions.
10 Key Benefits of Draught Proofing
Keep the inside temperature more comfortable all year round
Save money continuously on gas and electricity bills
Control the ventilation in your home
Help prevent some insects, creepy-crawlies from entering your home
Help prevent dust, smoke, pollen and pollutants from entering your home
6. Prevent windows and doors from rattling
7. Helps reduce traffic or other outside noise
8. Eliminate draughts coming down chimneys and through vents
9. Eliminate leakage from gaps and cracks
10. Improve your home's energy rating, increase the value of your home and helps the environment
The image below will shows a comprehensive guide for finding the gaps and cracks in your home.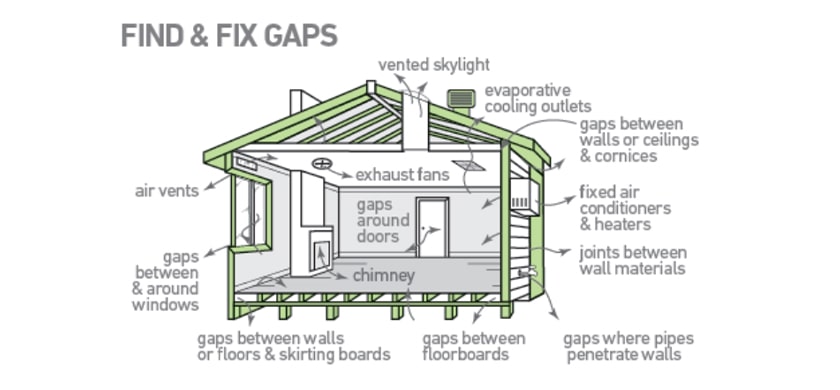 These are just some of the draught proofing products you will find when you shop online at our ecomaster Store
Door Brush Seal – Draught Excluder- RP2A -19mm Brush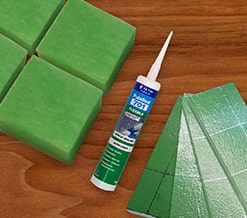 Goodbye Heating Vents
(4 Vents Per Kit)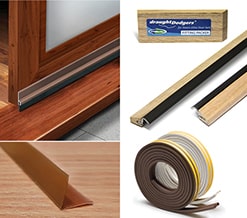 French Door Draught Proofing Kit Draught Dodgers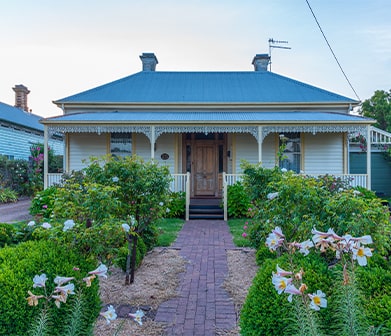 What type of doors are in your home?
Discover how best to insulate your doors with our Guide to Doors
Here are the best solutions for these types of doors:
Aluminum sliding doors
Cavity sliding doors
French doors
Single Hinged doors
Caption:
A beautifully maintained traditional wooden house at Colac, Australia. When renovating or maintaining your home remember the importance of Draught Proofing.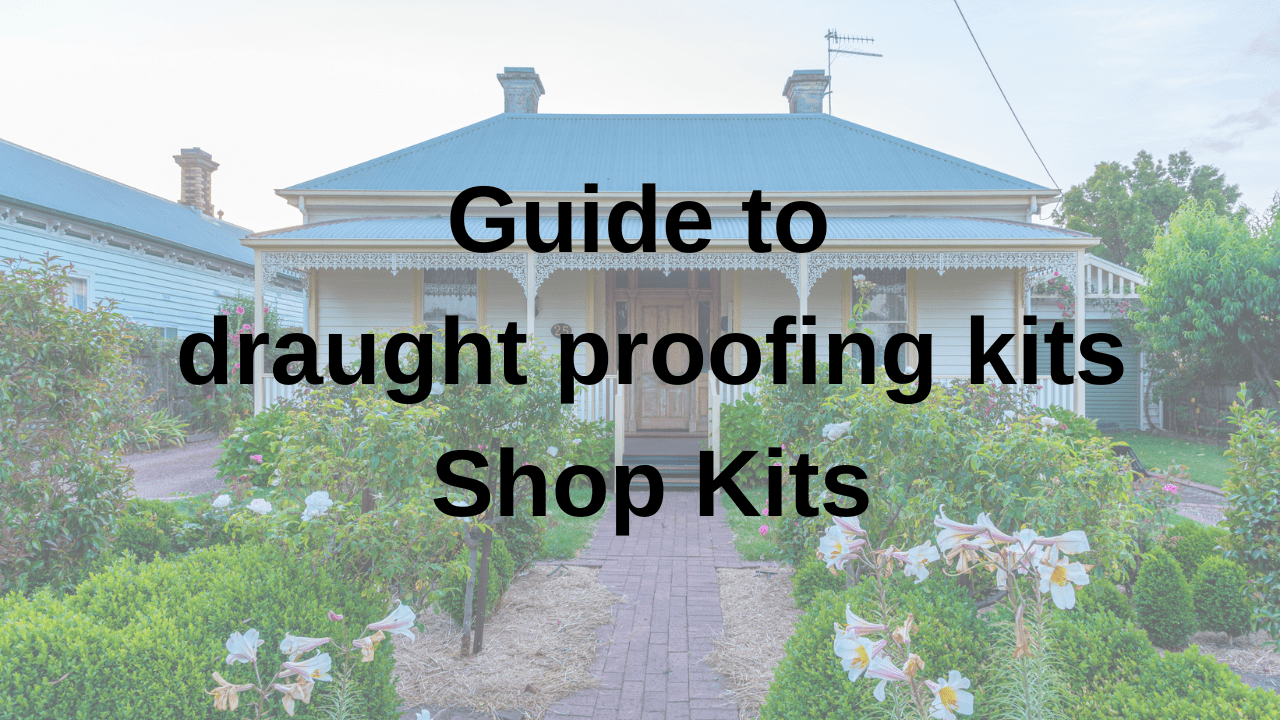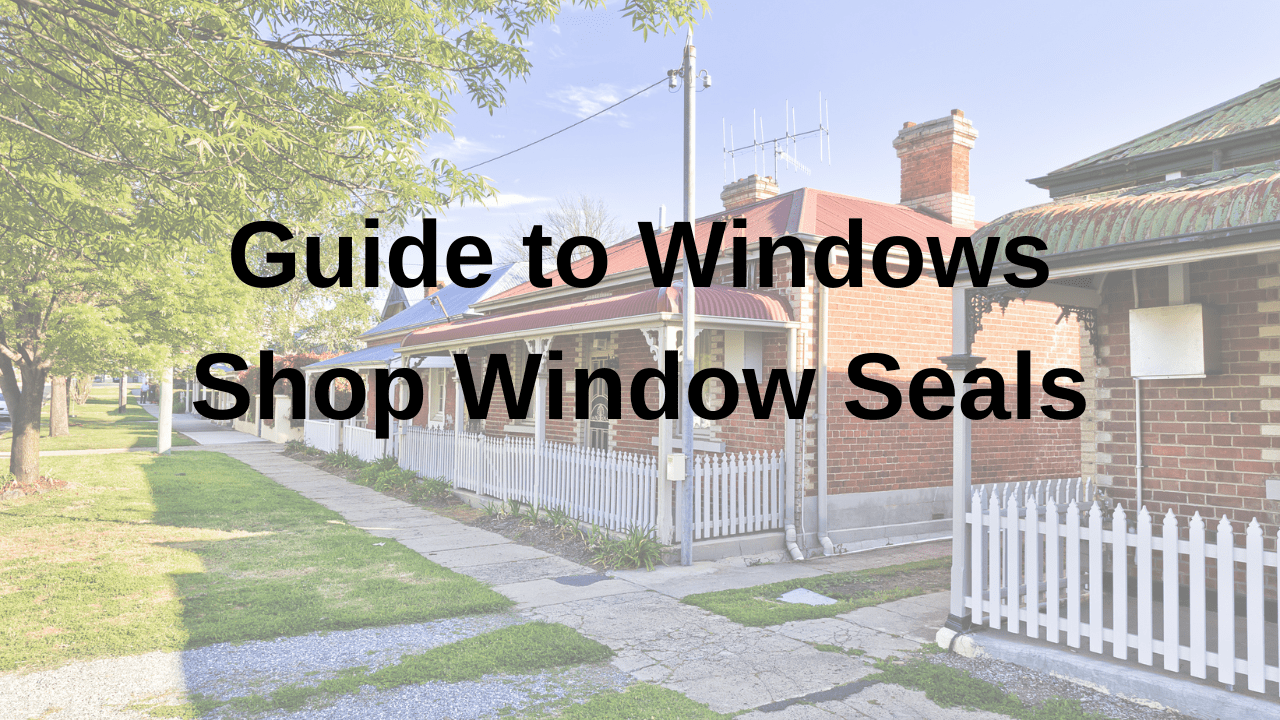 Guide to Doors An Open or Closed Door
They are an essential part of any home and apart from the obvious of providing access to, from and around your home, they are a primary source of ventilation, privacy and aesthetics.
Doors are also well known for letting in draughts and being an open invitation for insects, and other creatures to enter your home.
If a door is draughty your inside temperature is going to be uncomfortable which will drastically affect your energy bills as you attempt to regulate the temperature indoors throughout the different seasons.
Fixing a draughty door is something most people can do themselves, particularly with ecoMaster's 'how to' videos.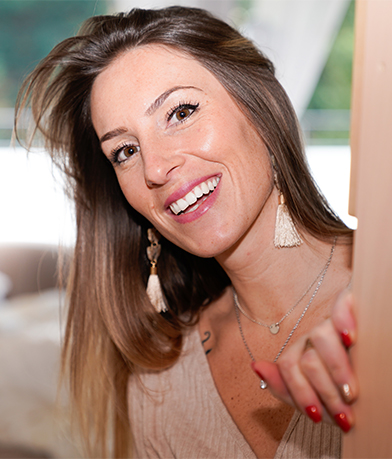 Looking into windows.
Like doors, windows play an essential role in any home. More and more home owners are acknowledging the immense importance of windows and the overall look and feel they generate in their home.
We don't always think of all the benefits windows provide us with, such as:

1. Offer cross ventilation throughout your home and allow you to control that ventilation
2. Bring natural light into your home
3. Enjoy the view of the locality
4. Prevent a home from looking gloomy
5. Prevent a home from feeling stuffy
6. Enhance the visual appeal of the house
7. Increase the Value of your home.
What type of windows are in your home?
Introduction – It's time now to look at windows
Guide to Windows 
Here are the best solutions for these types of windows:
Double Hung/Sash Windows
Aluminum Sliding Windows
Casement/Awning Windows
Shugg/Frameless Windows
Invisible Pelmets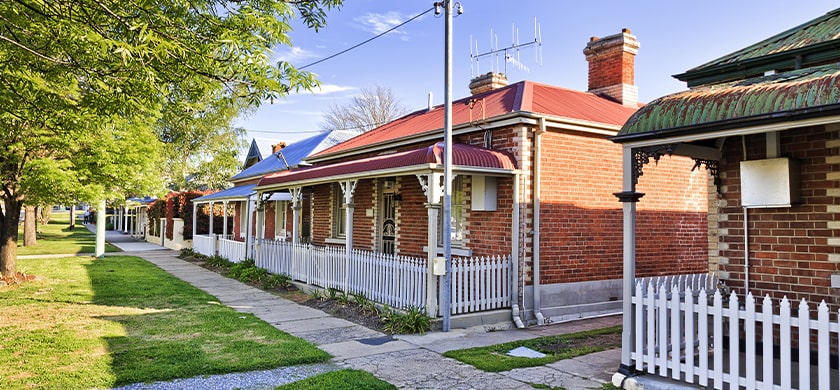 Caption: You and your home deserve to look good and feel good. Draught Proofing by sealing around doors and windows helps to achieve thermal comfort all year. These historic character houses in rural regional town of Bathurst NSW deserve the best quality door and window seals to maintain the look and improve the feel.
Chimneys, vents, exhaust fans, cracks and gaps
There are many other areas air can leak in and out of your home, such as:
Chimneys
Gaps and cracks
Vents
Exhaust fans 
After 20 years of retrofitting homes throughout Victoria we now want to share with you how to make these highly beneficial changes to your own home.
It is possible, and it is easy to do-it-yourself
We have produced informative, detailed, yet simple 'HOW TO' videos for our products making it easy to follow and implement these vital changes.
We sell top quality, tried and tested, products for installation
And, we are happy to help with our experienced after sales service
Home Improvement – DIY Benefits

You save a lot of money on labour costs.
You get to choose the best products knowing we have rigorously tested all the products we sell – high quality, high performing and durable.
You choose when to implement the changes – you don't have to schedule your time around a Tradesperson's time.
Our after sales services helps you along the way when and if you need it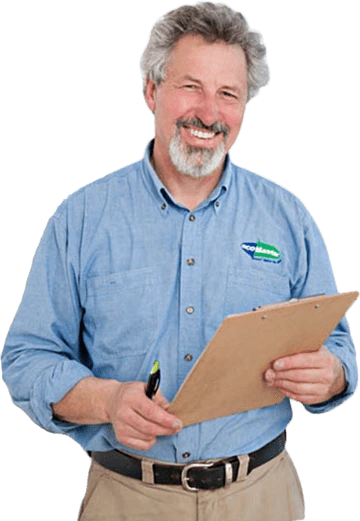 Home Improvement Made Easy for you to Do It Yourself
Our Technical Director, Maurice Beinat, presents informative, easy to follow, how-to instructional videos for nearly every product we sell.
You receive your FREE 'how to' video with products you purchase.  You can easily follow the specific instructions to give you the confidence to make your home more energy efficient and thermally comfortable.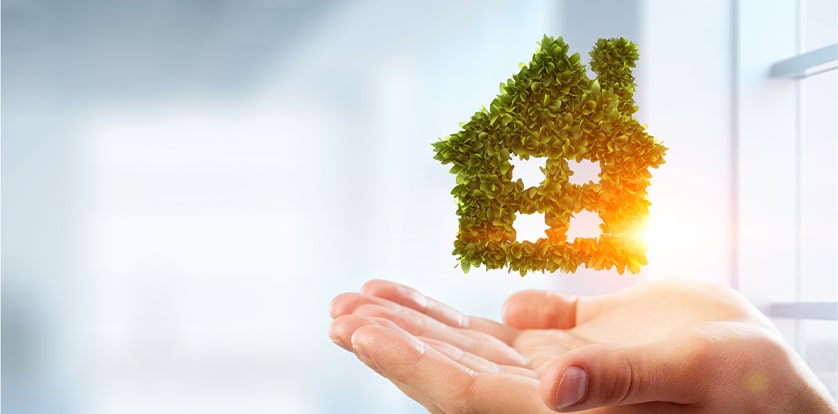 Caption: Retrofitting your home for energy efficiency not only saves on your energy costs, you are making a difference to the environment.  Your inside temperature will be more comfortable all year.
Gaps and cracks leak air in and out of your home. Through places you may not even know.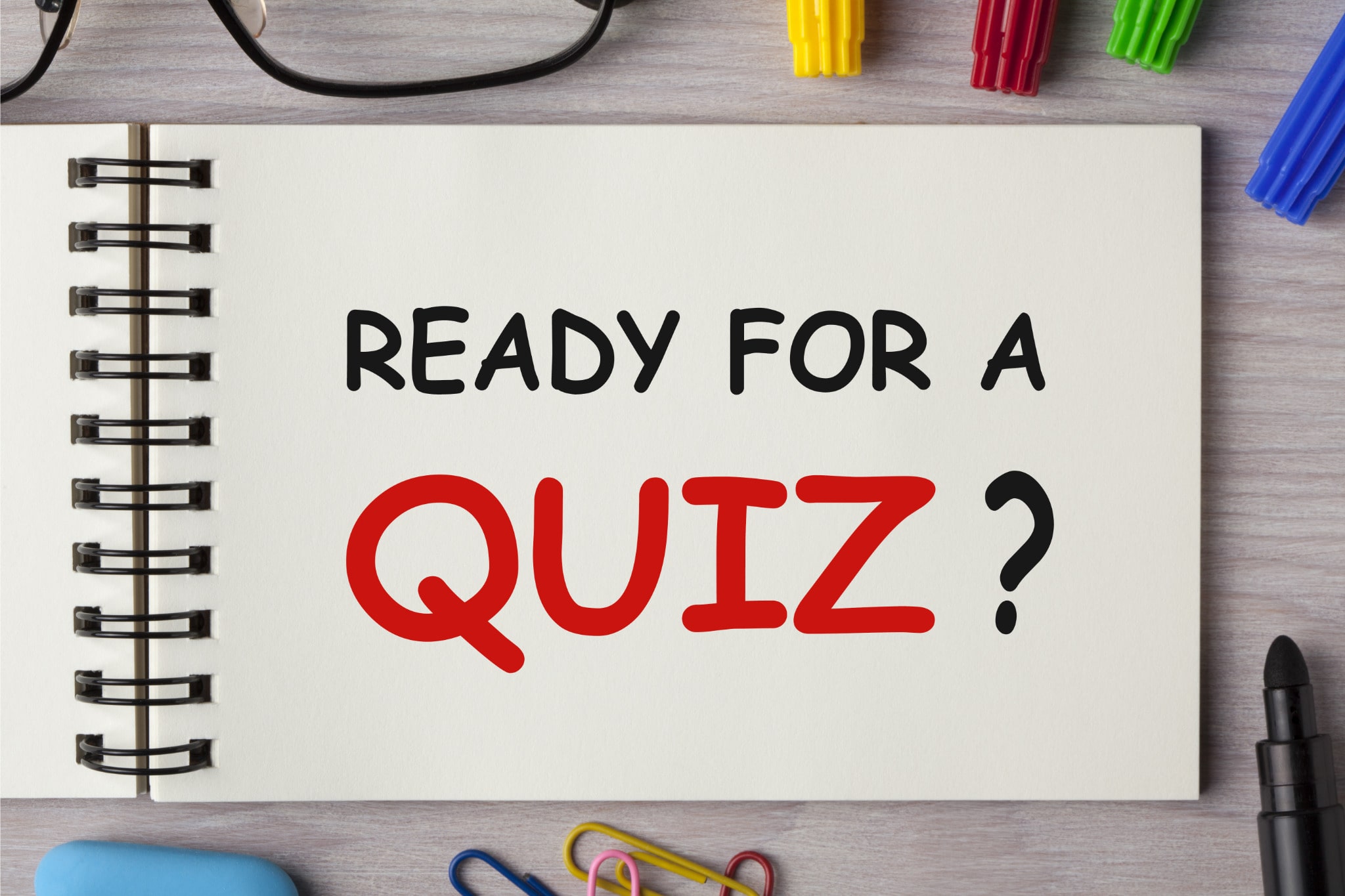 Through gaps in wooden floor boards
Gaps around skirting boards where they meet the floor
Through wall vents
Around heating ducts
Around architraves
Around picture rails
Cathedral ceilings
Through exhaust fans
Up and down your chimney
Turned off gas heating floor ducts
If you answered YES to 'all of these' then you are correct.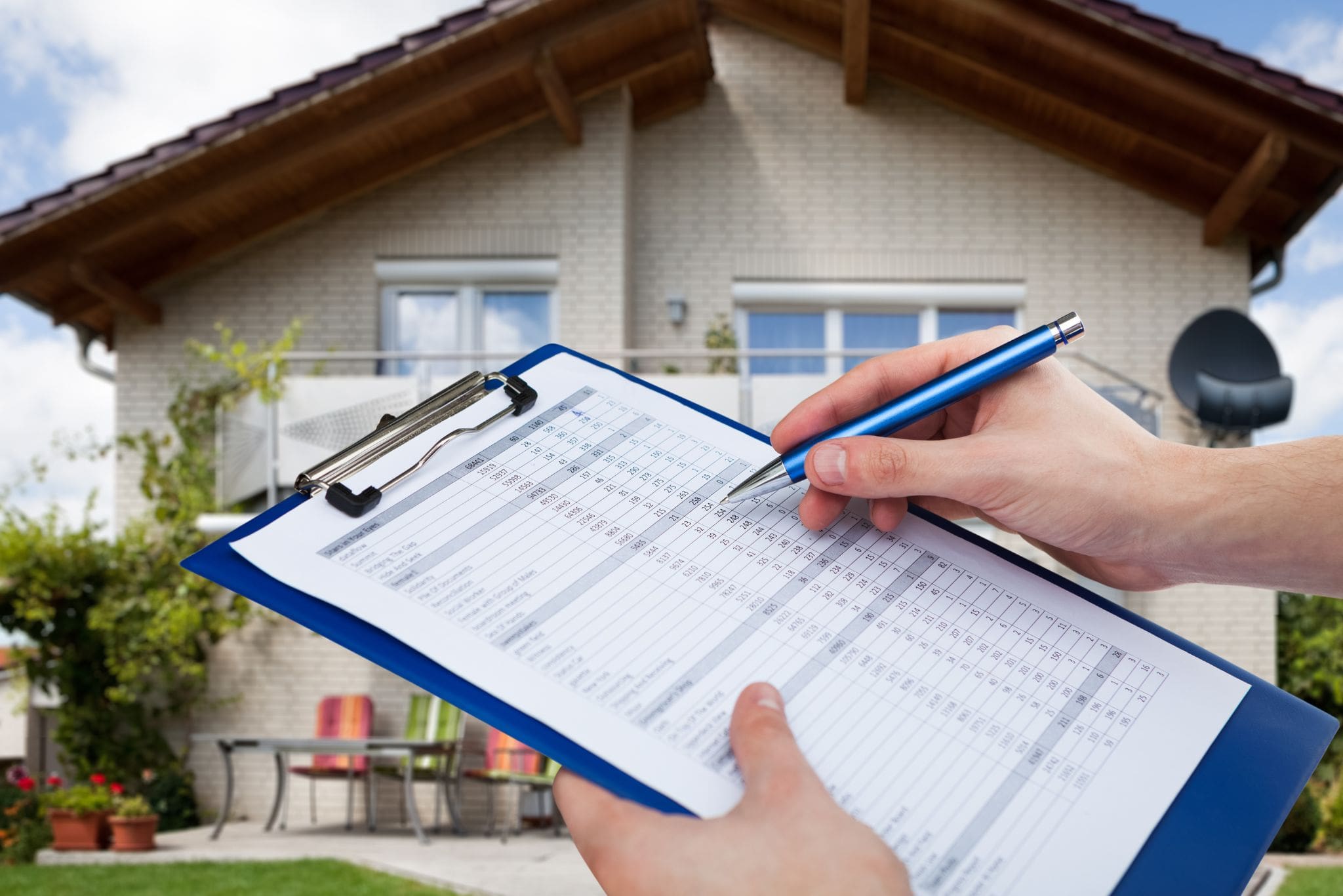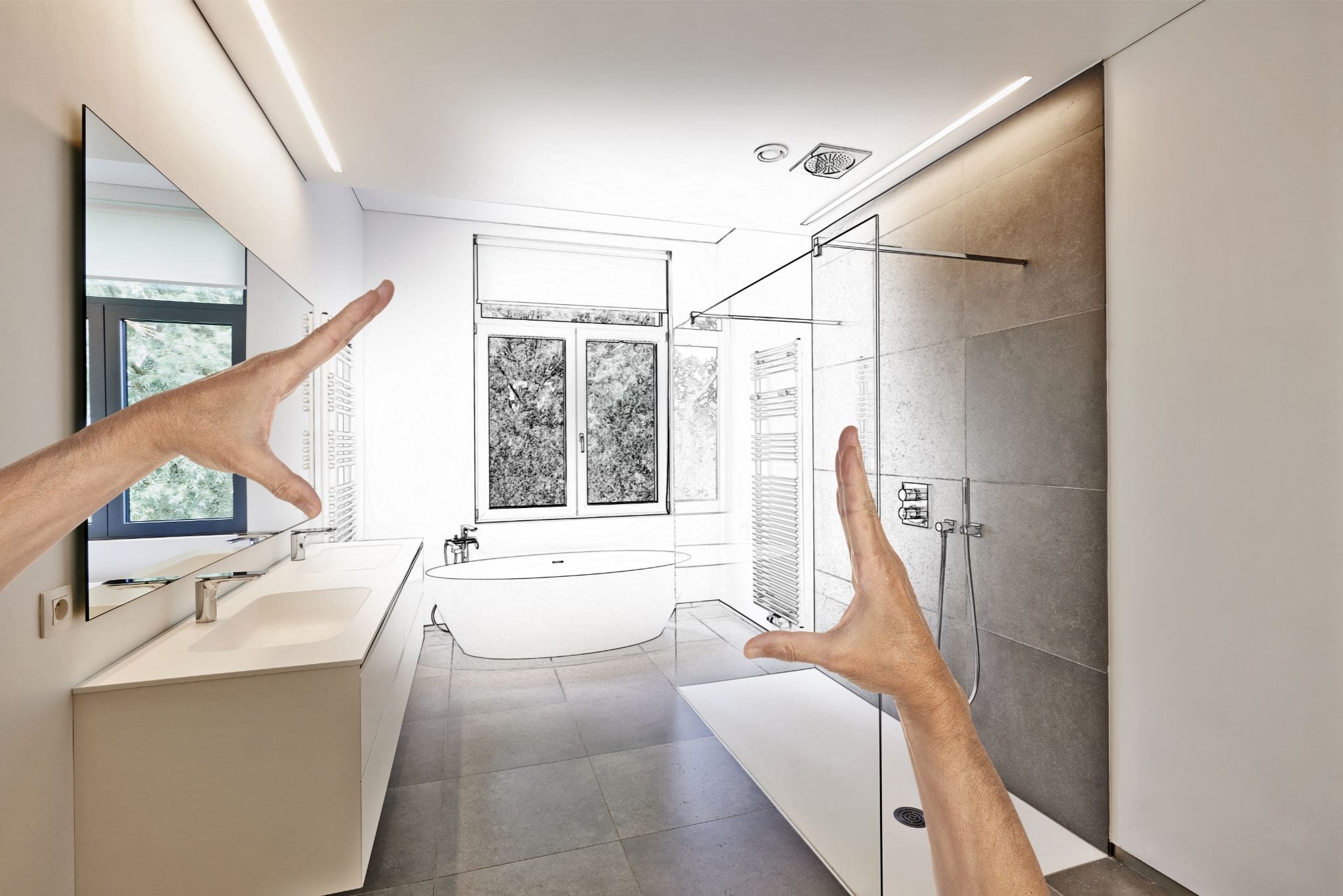 Bathrooms and laundries do not have to be cold and draughty rooms in your house.    Draught proof your windows and install a Draft Stoppa on your exhaust fans, make sure you have ceiling insulation and underfloor insulation if it is a wooden floor. 
For more great information on how to make your home more energy and thermally efficient sign up to our
eco

Bites