26th March used to be just a plain and ordinary day for us until 2017.
Charity had taken an entirely different meaning this time last year for ecoMaster founders Lyn and Maurice Beinat when they participated for the first time in the Hands Across The Water Charity Bike Ride.
It has been a profoundly humbling experience for the couple and the 64 others from the Business Blueprint delegation which taught them the value of sacrifice and going outside one's comfort zone in an effort to help those who have fallen on unfortunate circumstances.
"We've won the lottery of birth.  We've been fortunate enough to be born in a first world country; probably with a loving family.  I've certainly been a beneficiary of that. We've got modern conditions to live in, schools to go to, three meals a day. But it is just a lottery of birth and some people don't win that lottery.  They end up in very poor and trying circumstances,"  
said Maurice shortly after having completed last year's bike ride.
"It's important to help those who didn't win that lottery and we feel very privileged to have been able to do that on this occasion."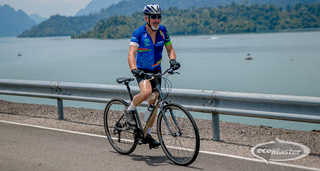 Under a sweltering Thailand weather, Maurice and Lyn Beinat had successfully completed the grueling 5-day bike ride. They covered a total of 500 kilometers starting from Hua Hin, a seaside resort in the Southern Thai province of Prachuap Khiri Khan and all the way to Khao Lak, a series of villages located 60 kilometers north of the island of Phuket.
With the help of kind-hearted partners and donors who channeled their donations through ecoMaster, the company was able to raise an amazing $13,740 for the charity. Truly an incredible feat worth the muscle pains and sunburns! nd as a company that never rests on its laurels, ecoMaster is taking up the gauntlet once again to join the 2018 Hands Across The Water.
Lyn and Maurice have a lot of training to do to as they buckle up for the ride but they are very much determined. The ride starts south of Bangkok and goes to Baan Tharn Namchai orphanage – places that the couple have never to been before.
"We'll be doing semi-regular bike progress updates, so watch this space… We are also happy to have company on our training rides… Every Saturday and Sunday from Gisborne at 9:30am!"
Lyn said.
Business Blueprint has pledged to do the ride annually to help augment the funds of Hands Across the Water used in alleviating the poor living conditions of at-risk children in Thailand. As some of you may have known, many of these children were displaced by the 2004 Boxing Day Tsunami.
Others have been displaced by bomb explosions and infected by HIV from birth. Hands Across The Water aims to support these children by providing them adequate food, water, clothing and education. The charity is supporting a total of seven orphanages dotted in different locations in Thailand. By far, with the help of kindhearted donors, Hands Across The Water has been able to send the first intake of orphans to university and one of them is currently pursuing a Masters degree.
100% of all the money raised goes towards the kids; none is taken for administration, marketing or office expenses.
If you wish to help us make a huge difference in the world, visit this page to directly channel your donation. Below is a thank you video by Maurice for last year's bike ride.