Polyester Underfloor Insulation

We offer the highest quality polyester
underfloor insulation rated at R2.5
Underfloor insulation will:
Keep the floor warmer and stop your feet feeling cold
Stop draught coming up from under the floor
Reduce sound coming up through the floor
Shrink your energy bills as your home will useless energy to stay at a comfortable temperature
Yes, I just want to be more comfortable in my home.
Quality and Safety from the Ground Up!
Save up to 20% of heat loss and add 1.5 Stars to your First Rate Energy Rating System when you install polyester underfloor insulation.
Remember, your underfloor area is as big your ceiling! A poorly insulated floor will not protect your home from unwanted heat gain in summer and will allow your expensive heating to escape in the colder months, costing you a fortune in energy bills.
Why is polyester the best type of insulation?
ecoMaster's underfloor insulation is 100% polyester and is selected based on its exceptional quality and effectiveness. This product is high-performance, low allergenic, moisture and rodent resistant, and it maintains its loft for the lifetime of your home. It comes in long rolls, which means fewer joins for the best possible cover and no gaps.
"
Great product
Don't waste your money or time with the stuff from Bunnings. The ecoMaster poly floor made a huge difference to the temperature inside the house and was super easy to install.
Sam R.
"Worth it! A noticeable change in the temperature within the house since the insulation has gone in. Yay! Did the installations ourselves, aside from the equipment recommended by EcoMaster I would suggest something to play some tunes on under the house as you'll be there for a while – but completely worth it.
Jacqui M.
How does underfloor insulation work?
Without underfloor insulation, the cold air beneath your sub-floor permeates the timber making your home cold and uncomfortable. A timber floor is just 19mm thick, this combined with possible air leakage, create a heat sink beneath your home, drawing the heat out from below.
Insulation is measured in terms of 'R' value, which represents "Resistance to Heat", the higher the 'R' value, the better the insulation. An un-insulated floor rates only R0.7. While carpet and underlay will make your feel more comfortable underfoot it only contributes slightly to the R rating (approximately R0.3), giving a total of just R1.0, which is insufficient rating for a comfortable home.
Underfloor insulation will increase your floor's R rating, and make a huge improvement to your comfort. For example, the addition of our premium R 2.5 underfloor insulation will take the overall Rating of your floor up to a massive R 3.2 or R3.5 with carpet, earning a higher Energy Star Rating for your home and much more comfort for your household.
The Benefits of Underfloor Insulation:
High performance for optimal effectiveness
Eco friendly comprising 45% recycled component
Non-Irritant, non-toxic, non-allergenic
Manufactured in Australia
High quality solution that last the lifetime of your home
Polyester insulation guaranteed for 50 years with  ecoMaster installation guaranteed for 10 years. 
Get lots more information about DIY underfloor insulation and instant pricing.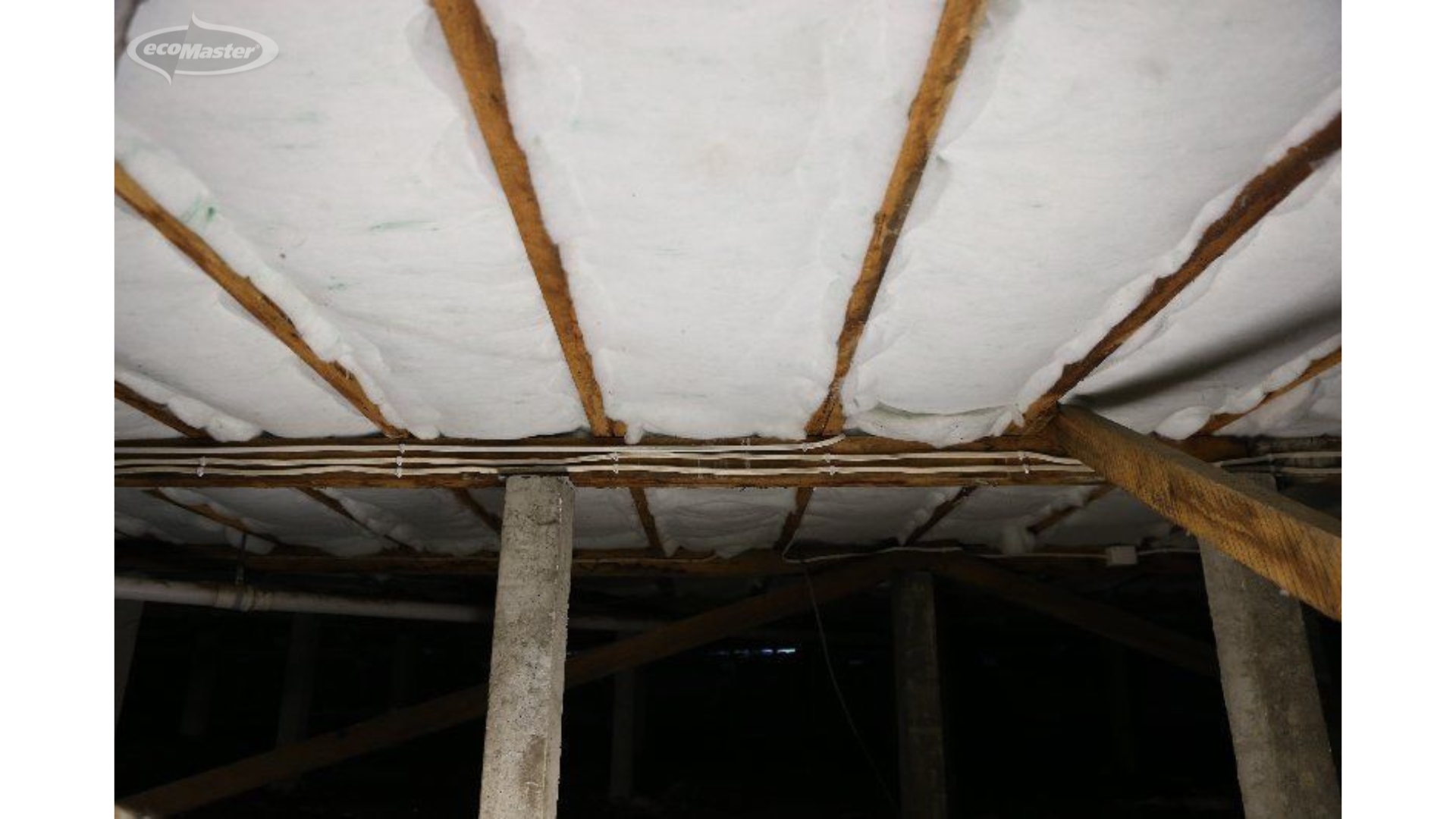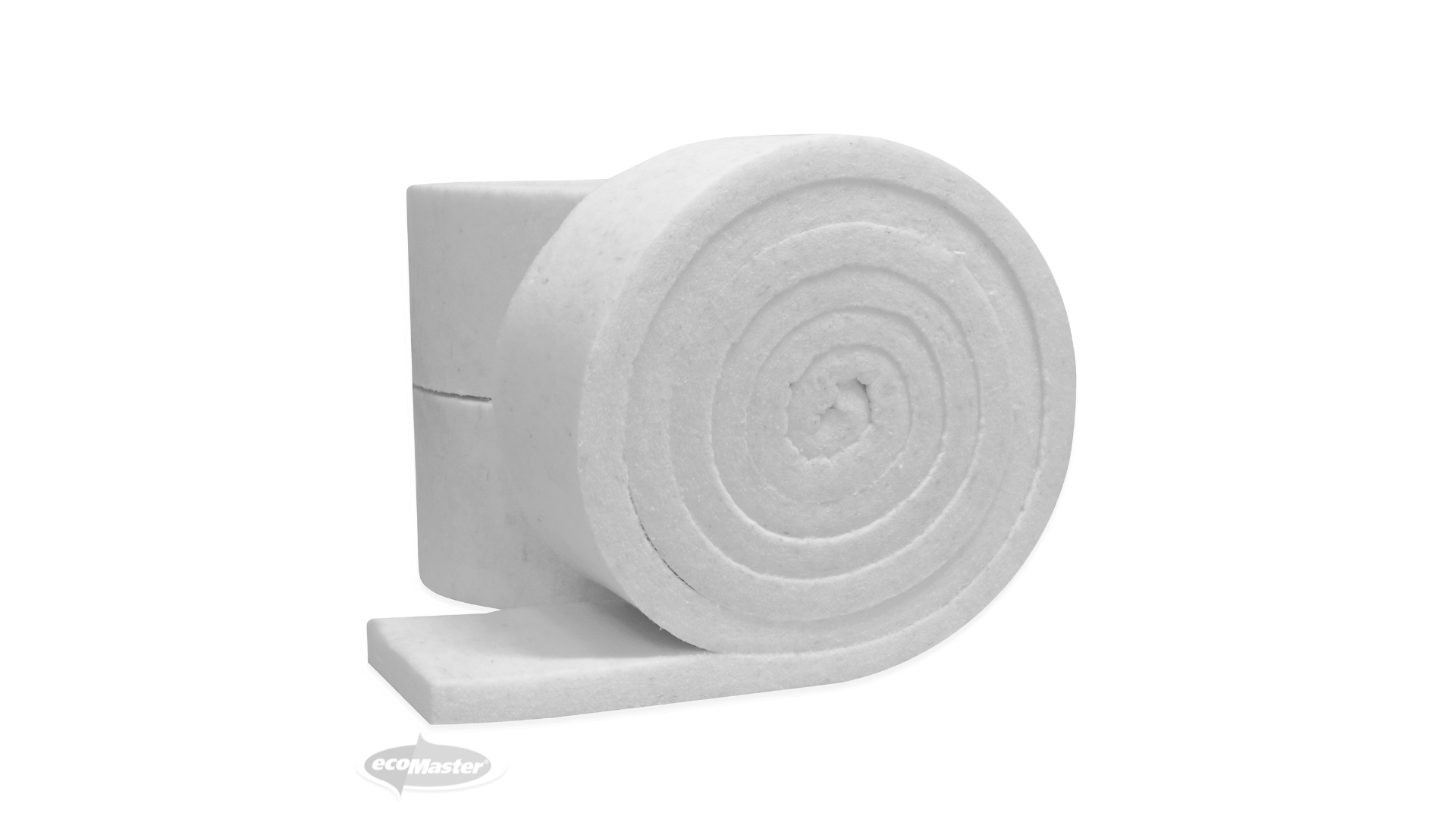 "Great product that works well and is made from a fair amount of recycled bottles
This product is really great especially for older homes with difficult to insulate the walls. The product is easy to install with an powered staple gun and lots of drop sheets to keep the insulation free from dirt. Nothing is worst than dirt falling into your eyes during installation. I am using personally using an air stapler with 14-16mm staples.
The product rips sideways with ease, which is very handy when your working within the underfloor crawl space . I did find that the product seems to have a smoother exterior on one side that is better to have facing down (externally). The other side is more "fluffy" and easier to accidentally disturb when installed.
It is significantly better to work with than regular glass fiber batts that I have experienced fixing the existing roof insulation. Effectively it is the same stuff in most pillows and is ironically comfy to lay on when having a brief rest under the floor.
The only pain personally has been installation in a 70+ years house with multiple retrofits sometimes done poorly that makes the insulation harder in some areas. Things like copper water pipe upgrades from older gal pipes that are dangling on the floor; electrical wiring upgrades with wires everywhere (old unearthed and new); and concrete stump replacements with soil piles blocking underfloor access with moving the dirt piles.
So far I have installed about 80m2 of the insulation in my home by myself on a few weekends. I have a few more rooms to do, but it is making a huge difference to the comfort of the home. The insulated floors aren't freezing anymore and people visiting are commenting on how "warm the place is." The product is great!
George M.
FREQUENTLY ASKED QUESTIONS
How much clearance do I need to install underfloor insulation?
You will need around 40cm clearance to feel comfortable under your floor and achieve complete coverage of your underfloor area.
Can I DIY install underfloor insulation?
Yes, we can provide an estimate to supply the insulation and also provide installation instructions. To find out how click here .
What other types of underfloor insulation are available?
There are many materials used to insulate beneath floorboards, but none so effective as polyester batts, stapled firmly between the joists.
Over the years we've come across a variety of ineffective alternatives as shown below.
1. Insulation batts held up with packing strap.
This quick and cheap installation method doesn't hold the insulation firmly against the floorboards, allowing space for air flow between the material and the floorboards and easy access for rodents.
2. Reflective insulation joined end-to-end.
Does not allow adequate still air space and is virtually impossible to install the sheets end-to-end without gaps, making it ineffective.
3. Builder's Blanket secured by mesh wires.
As you can see above, a few short years later the material is sagging (allowing air infiltration) and the product is breaking down due to water damage.
4. Fibreglass bulk insulation secured with chicken wire.
Over time, the fibrous nature of this underfloor insulation has allowed it to break down, rodents have carried some of it away and while the securing mechanism did stay in place, the material did not.
What is the best type of underfloor insulation available?
Having reviewed all of the different types of underfloor  insulation available. We choose Autex Polyester for its effectiveness, longevity and non-toxic properties. Our installation technique ensures a snug fit as we staple the insulation every 100mm -150mm.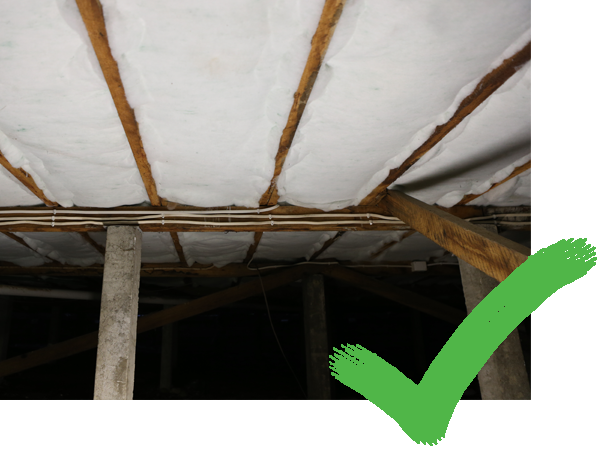 How do I insulate steel floors?
An increasing number of homes are being built with steel joists rather than timber.  If you need to insulate your steel-framed floor, ecoMaster's Joisties offer an elegantly simple DIY solution. Joisties hold insulation in place and reduce thermal transfer from the steel joists. No matter if your joists are "C" or box sections, Joisties come with fitting tools and special "stick once" glue for easy installation. They effectively act as socks for the steel joists, creating a warmer and more comfortable living environment.  Click here for more information