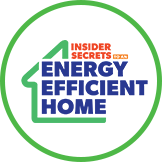 With summer just around the corner, we looked at a good way, a better way and the best way to shade our windows from the sun, so let's make a start.
As mentioned previously, we discussed that the best way to shade the glass is away from the window with as much ventilation as possible behind it. Using light colours is ideal for shading as dark colours radiate a lot more heat into the home, especially if they are right up against the windows. One exception to this rule can be roller shutters. If they are insulated on the inside with a material like a polystyrene, then they can be quite effective.
Renshade fitted to the glass with velcro dots is also quite effective, or even in frames if you want to make them more robust. They work quite well and you can see from the dark side to the light side. But how it is fitted is more important.
When it comes to cellular blinds, how it is fitted to the window is more important than the number of cells. Provided they're tightfitting to the rear of the window they can be effective and there's also a huge variety of those now.
Last but not least, drapes can work quite well as long as there is an effective or invisible pelmet. In winter, the air is warmed and rises, flowing into the room, it cools down rapidly as it passes behind the curtains and down the glass. Installing pelmets over the top of curtains ensures that the air retains some of its warmth and it is falling in front of the curtains and not being chilled by the glass. In summer the exact opposite happens, ensuring that hot air against the glass is not pumped into the room.