High Quality Draught Proofing for Doors & Windows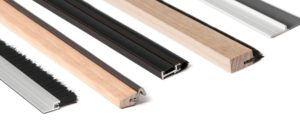 The Best Thing for your Door since the Door Handle.
Draught proofing? Sick of sticky seals letting in draughts around your door? You'll love Draught Dodgers for Doors!
Freezing in your home?? or are you getting ready for summer??
If the inside of your home feels like the same temperate as outside and you can feel the draught coming around and under your doors, then it is high time to do something about it!!
Draught Dodgers are a range of architectural perimeter seals designed to effectively and permanently eliminate air leaking in around doors and windows.
This page contains video instructions on how to properly install Draught Dodgers on the following:
Regular Hinged Doors
Double Hung Windows
Awning Windows (Coming Soon)
Cavity Sliding Doors (Coming Soon)
Draught Dodgers for Doors (One Door Set/Two Door Set)
The draught proofing has made a definite improvement to the comfort of our home. The temperature is more constant
RL, Woodend
Draught Dodgers for Double Hung Windows
I couldn't be happier with the result of the draught proofing of my house today! I'm sitting here without the heater on & it is so cosy & quiet! I can't hear the traffic noise at all!
JH, June