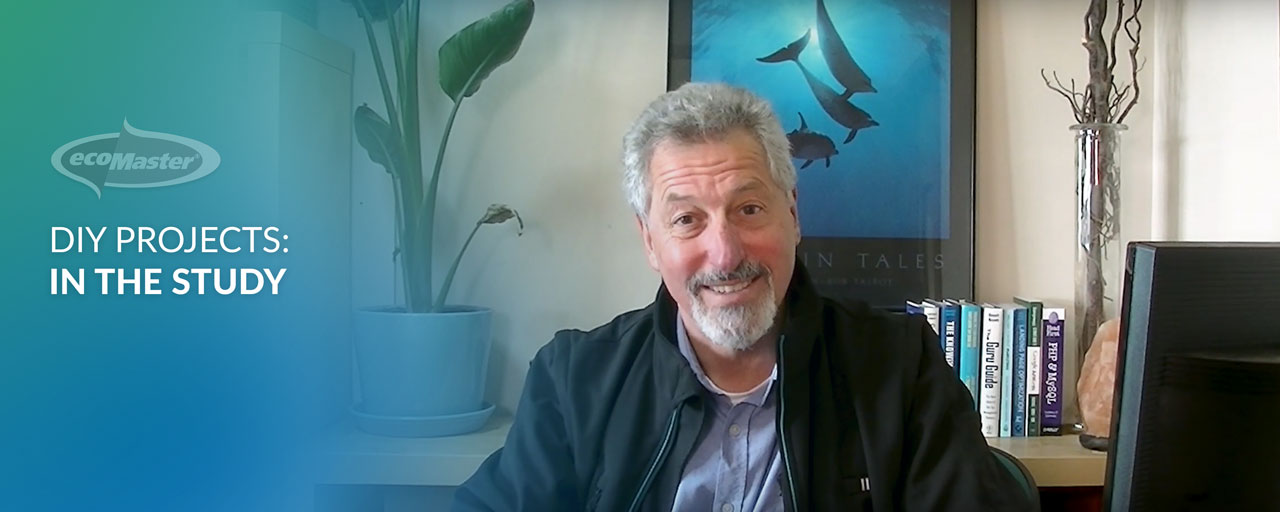 DIY Projects in the Study
Working in a study can be a reasonably uncomfortable experience. For a start, you're just sitting sedentary. If space is cool, you're soon going to be feeling frozen. There are a few things that have been done here to try and alleviate that. Firstly, on the window side. We have draught-proofed the opening window, added ecoGlaze (secondary glazing) to reduce the conducted heat through the glazing and added the Renshade roller blinds as well to reduce the incoming summer heat. There's also heavy lined drapes with the box pelmet. So the windows in this room are pretty well taken care of. Of course, during the day, we don't really want to use the drapes.
We've also fitted quite a good LED light to the ceiling to provide a good level of lighting. And finally, the thing to make you really comfortable is to create your own little personal heat bubble. And how do you do that? Well, you might notice that I'm wearing a jacket, but it's a special jacket. This is a heated jacket and we put a battery in it, push the button, and hey, presto, in a few minutes you get a nice, warm feeling all over. The other thing is, of course, a heated floor mat. Here it is! This particular one uses 75 watts of electricity, which is not a huge amount, but certainly, if your feet are warm and your body's warm, then it's going to be a fair bit more pleasant sitting here doing your work.
These particular ones have got a switch that enables you to change the colour of the light. We like the warm light, so
that's what we use. They've got a regular plug on the end so that they can plug easily into what's called plugged bases
in the ceiling. So if you've got plug bases, then it's a DIY installation. You can just take out the existing inefficient
lights and plug that into the plug base, then pop that into the ceiling and the job's done. The result is just amazingly
different – it's a really amazing light and surprisingly cheap.
Learn more DIY home projects. Read and watch here:
Downlights LED are the saving grace in the halogen vs LED battle
LED downlight installation is a simple plug-in process with the Osram Tri Colour Downlight. It is a dimmable LED light fitting and globe in one complete unit that has a long-lasting 90mm sealed LED downlight. With no bulb to replace, they are effectively maintenance free!
We have been helping thousands of Australian homes and commercial buildings achieve lasting thermal comfort with less energy since 2004. For queries, get In touch via our Contact Form