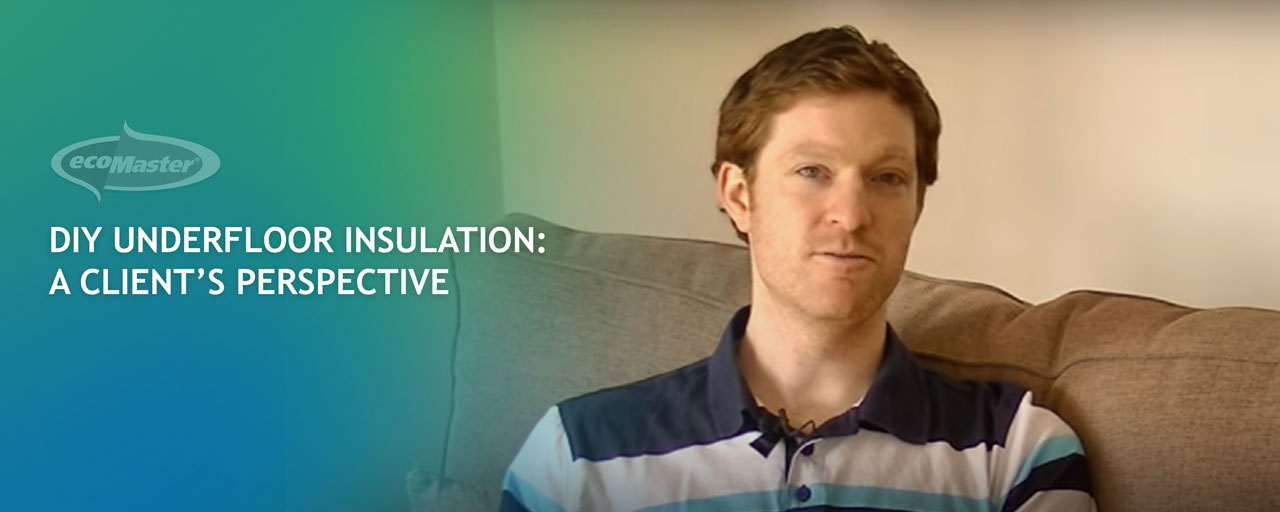 Taking steps toward making his home more energy efficient, Trivess Moore decided to take the DIY approach to installing underfloor insulation.
In this video, Trivess shares his experience and explains why he chose the DIY installation option to improve the thermal comfort of his home.
Even when we were going through and we'd done one bedroom, you could tell the difference between one bedroom and another bedroom."
See how Trivess reduced his energy consumption, making his Greensborough household more comfortable and more environmentally friendly.
VIDEO TRANSCRIPT:
"My dad, who's a bit of a handyman thought, well, why don't we give it a go and see, we should be able to do this. He'd watched some of the videos and thought that it would be something that we could manage, so we thought we'd give it a try.
We went with the DIY approach for a couple of reasons, I think the first was that we were conscious of trying to save a few dollars, I think that we were thinking that if we could do that ourselves and do the draught proofing ourselves then we might be able to afford then to put the PV system on or address some of the windows, or whatever was next on the list.
We were just trying to balance up, you know, our time to try and do it versus just getting it done professionally, and I think in the end we thought we would try and do it ourselves and then try and hopefully use some of the savings from that to do another thing later on, and we kind of did that in our own time on the weekends or whatever. So it probably, if you put all of the time together, it probably took maybe 5 or 6 days.
In terms of the thermal comfort inside, I think it's certainly made a difference. The floors don't feel as cold. We have a little bit of carpet in this room here but the rest of the house is floorboards. And so I think you really kind of just notice that little difference.
And I guess even when we were going through and we'd kind of just  done one bedroom, you could tell the difference between one and the other bedroom. I remember that there was a noticeable difference.
Dealing with ecoMaster was very easy, there was no issue dealing with the information they provided, it was very clear, it was all broken down. We had, you know, the information emailed to us and we just transferred the money online. It was very quick, very efficient and then the products arrived very shortly after.
The materials, the quality of them, were great. So now we're really starting to see some improvements to the thermal comfort. And, you know, hopefully these products are going to last for years to come. I'm sure we'll be back in touch with ecoMaster to do those next few things when we get to them.
You can see that you can really reduce your overall energy consumption and improve your thermal comfort quite significantly."
How Underfloor Insulation Works
Without an underfloor insulation in place, the cold air beneath your sub-floor flows into the timber making your home susceptible to cold.
With an average thickness of 19mm, timber floors have low insulating capacity. Timber floors and a possible air leakage create a heat sink beneath your home which draw the heat out of your home from below.
Polyester Underfloor Insulation will increase your floor's R (Resistance to Heat) rating, and make a huge improvement to your comfort. For example, the addition of our premium R 2.5 underfloor insulation will take the overall Rating of your floor up to a massive R 3.2 or R3.5 with carpet, earning a higher Energy Star Rating for your home. This means much more comfort for your household!
Learn more about Polyester Underfloor Insulation and its potential in making your home more thermally efficient.
Contact ecoMaster To Get The Best Underfloor Insulation
If you're looking for home insulation in Melbourne or Sydney, call ecoMaster. We supply and install high-quality polyester insulation for all types of Australian homes and commercial establishments.