When the colder months set in, many turn to their fireplace for a warm refuge.
Indeed, nothing beats a crackling fire in keeping the whole family toasty amid a frigid Aussie winter.
However, when not in use, an open chimney can become a thermal nuisance if you're working hard to maintain your home at comfortable temperature levels!  And this is particularly true if you have decided that a fireplace is not the environmentally friendly (or pocket-friendly) way to keep your family warm.
The Problem with Open Chimneys
According to Your Home Technical Manual, as a heating source about 90% of the heat from a fire is lost up the chimney and it causes indoor air to be replaced by colder outside air. In the warmer months, draughty chimneys can suck in massive amounts of hot air from outside into your home.  In effect, this can counteract the cooling effects of your fans or air conditioning systems. 
Open Chimneys can also allow huge amounts of dust, insects, and bugs into your home all year round.  Birds can fly into a home with an open chimney and occasionally get stuck, or emerge in the hearth, sooty and distressed.
What were the alternatives before a Chimney Draught Stopper?
Before the Chimney Draught Stopper, there was a range of interesting products and solutions for stopping chimney draughts. Each of them had various levels of success, or non-success, as the case may be.
The Chimney Balloon is a case in point.  Produced as a plastic balloon, the installation of the Chimney Balloon requires it to be blown up and inserted into the throat of the chimney.
There are a couple of problems with this:
Shape –

Most chimney throats are rectangular with 90-degree corners.  The

Chimney Balloon

is not that shape.  They are rounded on the ends.  There are always going to be gaps.
Temporary

– All balloons deflate over time.  The instruction with a

Chimney Balloon

is to re-inflate it every few months. In all the years the ecoMaster team has been talking to homeowners about the "success" of their

Chimney Balloon

there was only ONE homeowner who actually got on their hands and knees and did actually re-inflate it every three months.
Missing in action – On more occasions than we would like to count, the hapless Chimney Balloon is found in the hearth – having fallen from the throat of the chimney. Worse, we have even found one outside in the garden having escaped via the chimney!
Some clients have used an old pillow stuffed into the throat of the chimney.  That does actually work well, right up until the pillow becomes wet and starts to become mouldy.  It took quite some time before the householders located that damp, musty smell in their lounge room.
If you have open chimneys in your home, it is most likely that they are the most leaky point in your home.  To get the maximum benefit for your retrofit dollar, they need to be addressed first.
What Is A Chimney Draught Stopper?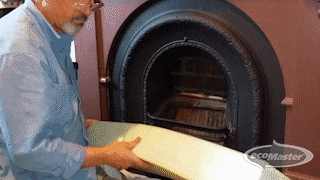 Draught-proofing your chimney is one of the best solutions you can undertake today to manage your thermal comfort, reduce your energy costs, and keep bugs and dust out of your home. This is best done by installing a Chimney Draught Stopper into your fireplace.  
It is a medium density foam that has been pre-cut to the same size of most chimneys.  Measuring 1000mm long x 300mm wide and 100mm thick, a Chimney Draught Stopper is easily trimmed to shape and inserted into your chimney. They provide a tight seal to block off the entry of draughts and ensure that your home heating stays indoors in winter. It also prevents the hot summer wind from blowing into your home.
Watch this video to see how to achieve an excellent result in stopping your open chimney.
 Chimney Draught Stoppers have a number of excellent qualities including not being impacted by water.
If you wish to remove the stopper, it can be easily extracted.  We suggest you attach a string around the stopper if you wish to remove it on a regular basis. It is also a useful idea to include a reminder in the hearth that you have a stopper inserted into the chimney – just in case you forget.
Get access to thermal comfort that lasts today
Stop your leaky chimney from stealing your comfort in winter and summer. Order your Chimney Draught Stopper online at www.ecoMasterStore.com.au.