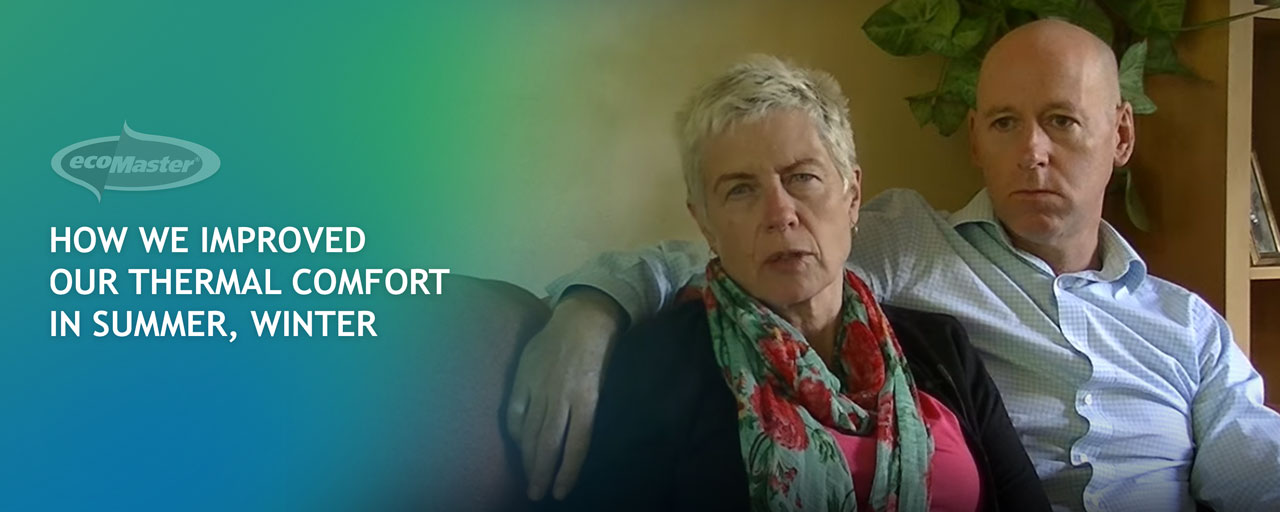 Margo and Robert knew that there were things that they could do to improve the thermal comfort of their home, beginning with a professional home assessment.
The couple eventually availed of energy-saving solutions like draught-proofing and installing insulations.
Margo and Robert both knew that a home that is properly insulated and draught proofed requires less heating and cooling; and a home that is comfortable without the need for heating and cooling – that's paradise.
Many people walk in this house and they have a really good feeling … and that's a lot to do with the comfort factor."
WATCH THEIR STORY:
TRANSCRIPT:
Margo: "It's just the most fantastic feeling to have your house, when you walk in the door, that it's not so cold that you'd rather stay outside which was the experience we had before. Or, that it's so hot you don't know where you're gonna go. You're gonna go to a shopping centre to hang out for the day.
It had very basic insulation in the roof and there were quite a few draughts and it was single glazed windows in a house that has a lot of windows facing south. I knew there was stuff we could do and asked ecoMaster to come and give us an assessment."
Robert: "I think the assessment can really help you to prioritise. Some people will want you to learn something that needs to be done first. But, to get the biggest bang for buck, it's important to get an expert in to tell you where to put your effort in first."
Margo: "They're all about getting solutions that fit your house, not anybody else's house. It's not an off the shelf solution. They get the work done. They have awesome contractors who just clean up after themselves, which is just fantastic, and they know what they're doing. They've got a lot of years of experience and they put a lot of time into the research to really make sure things work. I think that's just  fantastic!"
Robert: "I think we've definitely saved between 15 to 20% in our gas bill. We're pretty efficient anyway with our use but that's, I reckon, a great saving."
Margo: "I like that ecoMaster ties it up with a bow, there's not even a plastic bag to put in the bin after the installers have been here. What working person doesn't want that kind of extraordinary attention? It makes them so easy to recommend. Not only is their workmanship and the knowledge base, the really well-researched knowledge base. Then there's the installation. It's just a terrific service all up.
Many people walk in this house and they have a really good feeling about this house and that's a lot to do with the comfort factor in this house and they start to notice things. They go, 'Oh, what have you done to your window? Why is this house so nice? I live in Macedon too, why is this one so nice?' And you can point out what you've done."
Secure Your Comfort, Reduce Your Energy Cost
Like Margo and Robert, you can tread the same path to energy efficiency beginning TODAY.
Boost your thermal comfort by draught-proofing your doors and windows and by insulating your ceiling, floors, and walls. Not only does an all-home retrofit improve your comfort in summer and winter, but it also lowers your energy cost for the long term as well.
If you're looking for high-quality draught proofing solutions and insulation installers in Melbourne, contact ecoMaster, the experts in energy efficiency! Get In touch via our Contact Form
We make homes more comfortable and less expensive to run
Browse through our wide range of effective and affordable energy efficient solutions at www.ecoMasterStore.com.au