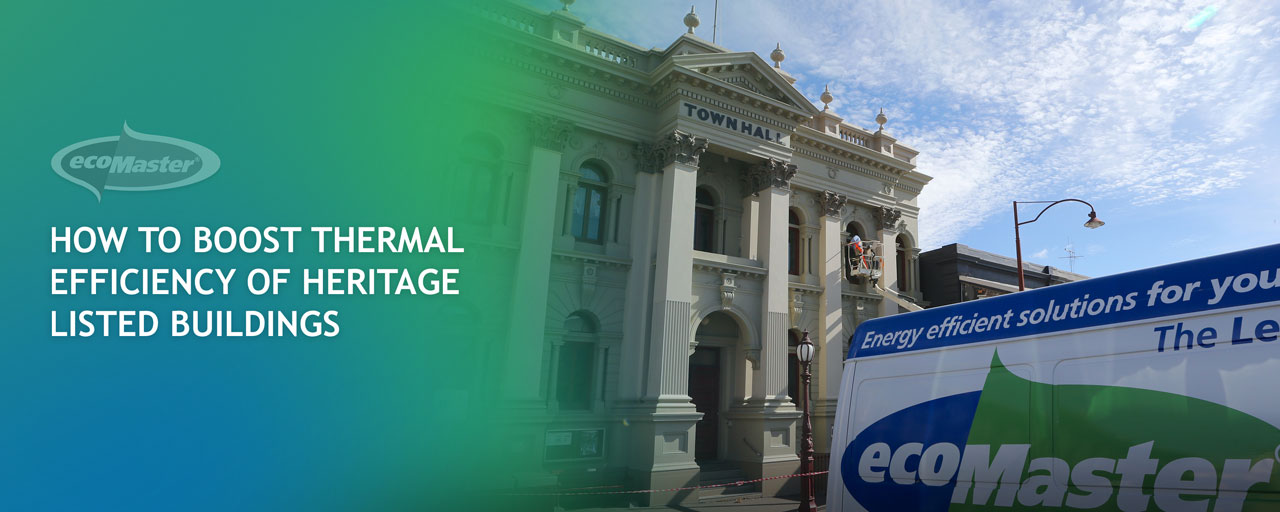 Retrofit Solutions that Preserve Antique Appeal
As many of us understand, heritage listed buildings add value and richness to communities, but renovating them can be a complicated process. In an age where energy efficiency is becoming a priority, heritage buildings are protected by intervention restrictions that prevent changes that could compromise their historic and heritage character.
But what if there was a way to retrofit an existing building to become more energy efficient, while preserving the qualities inherent to these architectural treasures?
Central to energy efficiency is the concept of 'thermal efficiency', which refers to controlling how heating and cooling transfers from inside or outside a building. Most heritage buildings have not been designed with thermal performance in mind, features such as high ceilings and ornate single-glazed windows leave them virtually impossible to heat and cool, making them uncomfortable and expensive to run.
On the 19th of November 2013, Maurice Beinat, Chief Technical Officer of ecoMaster was a guest speaker at the 3rd Annual Local Government & Public Sector Building Maintenance and Management Conference held at The Hotel Windsor, Melbourne.
The focus of Maurice's presentation was to shed some light on improving the thermal performance of heritage listed buildings, offering professional and permanent retrofit solutions that integrate with buildings just the way they are, preserving their aesthetic integrity.
Drawing on a decade of experience in the thermal efficiency industry, Maurice described draught proofing doors, installing secondary glazing on windows, and insulation as three key retrofit solutions that will make a significant improvement to a building.
The most impressive thing about these particular solutions is that they are practically invisible when installed, enhancing the comfort of the building while merging with the existing architecture.
In his presentation, Maurice acknowledged the value of older buildings in contemporary life and how their role within communities has changed over the years.
The Hepburn Town Hall, for instance, now serves as the headquarters for Hepburn Shire Council and is an active hub for community events including formal functions, craft markets and senior citizens' services.
Maurice's presentation featured a range of heritage listed buildings from various eras. He shared some of the peculiar things he'd seen in his assessments of older buildings including finding bark and shredded paper in place of insulation and disintegrated adhesive seals around doors and windows.
Maurice invited his audience to consider the room in which they sat, and how the use of that particular space has changed over time. First opened in 1883, The Hotel Windsor offers a perfect example of a building that was purposefully designed to be a ventilated space, to allow for the open fire to heat the space, where visitors to the building would gather.
Nowadays, the conference room is used in a very different way, the open fire is no longer in use and visitors are often spread throughout the space, creating the need to be comfortable regardless of where you are in the room. What was once a purpose-built design now presents an array of thermal performance issues.
Maurice highlighted the uniqueness of each example and the importance of understanding the idiosyncrasies of a building before making any changes to heating and cooling. Understanding the history, function and construction of a building will determine the appropriate action to take to achieve effective and lasting improvements to thermal performance.
Maurice recommended professional draught proofing to be the most effective first step, followed by insulation and secondary glazing, which is effectively double glazing for existing windows.
Visitors to the conference were particularly appreciative of Maurice's hands on approach to the topic. With his expertise in thermal efficiency retrofit, and an appreciation of the sensitivity required when working with heritage buildings, Maurice offered non-invasive solutions that make heritage buildings more comfortable, more economical, and better for the environment.
Get access to a thermal comfort that lasts today
For a wide range of draught proofing solutions in Melbourne and other parts of Australia, contact ecoMaster. We have been helping thousands of Australian homes and commercial buildings achieve lasting thermal comfort with less energy since 2004. 
For queries, get In touch via our Contact Form