Gauging your home's thermal efficiency in recent years, are you confident that your home is able to keep you warm and comfortable throughout winter without punching holes in your pocket?
Bringing in, and retaining, the heat to counter the effects of the freezing winter is the crux of surviving winter in the hinterland areas of Melbourne.  Areas like the Macedon Ranges, Dandenongs, Ballarat, and Bendigo can be achingly cold in winter.
In addition to the fact that winter temperatures there can drop to as low as -1.6 degrees (coldest temperature recorded in 07 May 2000), using an electrical heating system and running it for the whole day entails a huge cost.  Burning firewood can also be expensive and physically demanding in cutting and stacking.
Winter-proofing your home doesn't have to be laborious and costly wherever you may be situated in Australia. You need to put primary focus on improving your home's thermal efficiency. Most Australian homes are not getting the thermal comfort they are striving for because of two main factors: uncontrolled ventilation and unmanaged heat exchange.
So the more you control the ventilation in your home, and the more you manage the heat that is exchanged through the ceiling, walls, floors and windows of your home, the more comfortable you will be with much lower energy bills.
Before winter sets in, you can start winter-proofing your home by preventing cold air from penetrating your windows and skirting boards through these DIY sealing and insulation techniques:
• Insulate your windows using bubble wrap
This is a great free technique is you care more about reducing the cold than your view.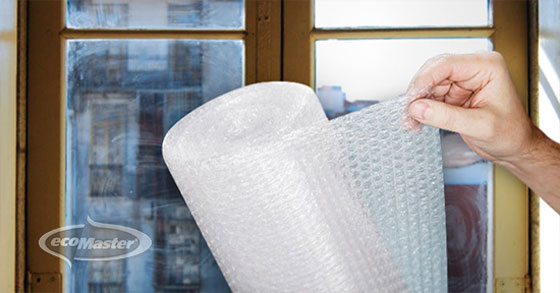 WHAT YOU NEED: Enough bubble wrap to cover your glass window, spray bottle filled with water to stick it on to the glass, and a sharp knife
Spray the glass with water

Apply the bubble wrap

Trim the edges to fit
• Sealing the skirting boards using paper mache
This is a great free technique suitable for rentals and older properties.
WHAT YOU NEED: Old newspapers and wallpaper paste
Soak old newspapers in wallpaper paste.

Push the paper mache into the gaps, finishing it off neatly and allow them to dry.
If you want to gain a clearer insight about your home's thermal performance and invest in long-term draught proofing solutions for your home, you can avail of our professional ecoHome Energy Assessment. Our highly experienced assessors will visit your home to evaluate its thermal performance according to your chosen home assessment and develop your ecoHome Retrofit Plan. This is a recommended approach for residents who have just moved in to a new location, or residents who have lived in their home for many years and just endured the cold.
Your assessor will specify and prioritise the most appropriate solutions for your home.  Getting quality advice from the experts and putting in place the home retrofit solutions that you need right from the start will set you up for long term success.
Take the journey to a more comfortable home today!
For inquiries on how to winter-proof your home and reduce your energy bills, contact us today at 1300 326 627. We'd love to walk you through the process.