Lighting fixtures and ceiling insulation may have completely different functions and purposes but these two components must complement each other in ensuring the safety and comfort inside a building.
Here are three essential information you need to know about Insulation Contact (IC)-rated recessed downlights:
1. IC rating is a yardstick that tells consumers that a lighting fixture is safe to come in contact with insulation.
A downlight that bears the IC rating has been guaranteed to be consistent with the specific requirements set by the Australian/New Zealand Standard on Recessed Luminaires (AS/NZS 60598.2.20:2018). This means that the product is safe and suitable for use together with insulation.
2. IC-rated downlights reduce the risks of fire hazards.
The majority of Australian homes have insulation fitted in their ceilings to add a layer of thermal protection in their homes, keeping it warm in winter and cool in summer. However, installing downlights (particularly halogen downlights) in your ceiling in the presence of an insulation can become a safety concern.
Halogen downlights can get hot enough to ignite any combustible material near it. When insulation is placed close to a halogen downlight, it can pose a fire risk.  
IC-rated downlights are safe to be covered by a non-flammable insulation, provided that this insulation is guaranteed safe for exposure to temperatures as high as 90°C and above.  
3. IC-rated downlights prevent thermal loss.
Since a downlight without an IC rating cannot be in contact or covered by any insulation, your ceiling insulation would have to be fitted at least 20 centimetres away from EACH lighting fixture to allow heat to disperse. In effect, half of your insulation batt is missing for EVERY downlight.
For instance, if your ceiling has R3.0 (insulation rate) batts fitted and you have downlights, then your ceiling only has an insulation rate of R1.5. This means that the effectiveness of your insulation is slashed down by half, resulting in greater heat loss in winter and heat gain in summer.
Installing IC-rated downlights eliminates this problem as these lights can be abbutted or directly covered by an insulation. This allows an uninterrupted installation of the insulation in your ceiling and the batts can be laid out completely over the entire ceiling area for optimal effectiveness.
When you choose IC-rated downlights, you reduce fire hazards, cut back on your energy use, effectively minimise draft, and boost your ceiling insulation.
The Best Ceiling Insulation For Australian Homes
When it comes to the safest insulation material to go with your downlights, ecoMaster's Autex Polyester Insulation is the most suitable choice.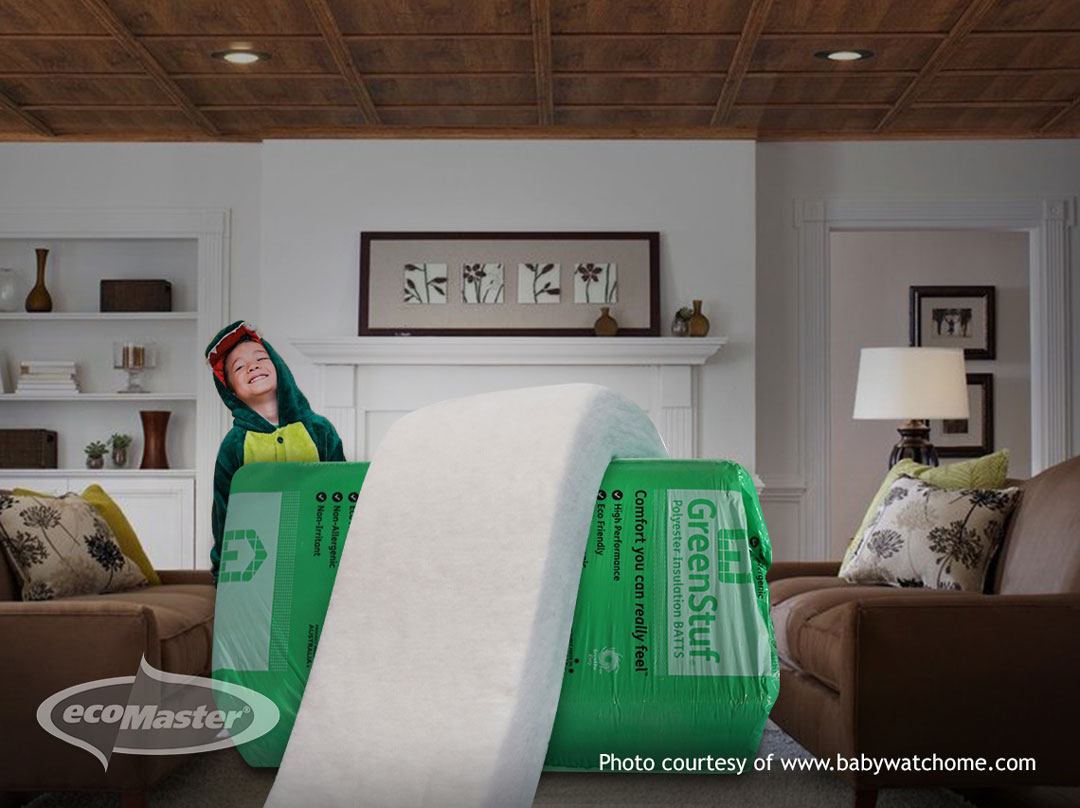 Our polyester ceiling insulation is durable, high quality can be exposed to hot temperatures (up to 160°C), non-irritant and rodent-resistant, and can last for over 50 years! It also has an insulation rating of R2.5 which automatically boosts your ceiling's heat and cold absorption capacity up a notch.
When you're in need of a premium quality insulation for your Melbourne home, call ecoMaster, the leader in energy efficiency. We deliver polyester ceiling batts in Melbourne and Sydney.
We deliver and install insulation in Melbourne and Sydney.
Pop us an email at [email protected] for more information. Or give us a call on 1300 326 627 or check www.ecoMasterStore.com.au