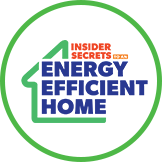 Not All Downlights Are Created Equal
There are multiple reasons why halogen is not a good idea, the first being the degradation of insulation. When you've got quite a few halogen downlights, you're going to be missing between 7% and 10% of the insulation, whilst you only need to be missing 5% to half the effective insulation level.
The second reason is they're quite dangerous to your home. When we see downlights hard up against paper insulation, we can see that it has singed the paper which is actually how some houses burn down.
Last but not least, uncontrolled ventilation. When you look at downlights that can tilt but haven't been tilted, there is a quite a gap around it, and when you have multiple downlights in a home, that's quite a big gap.