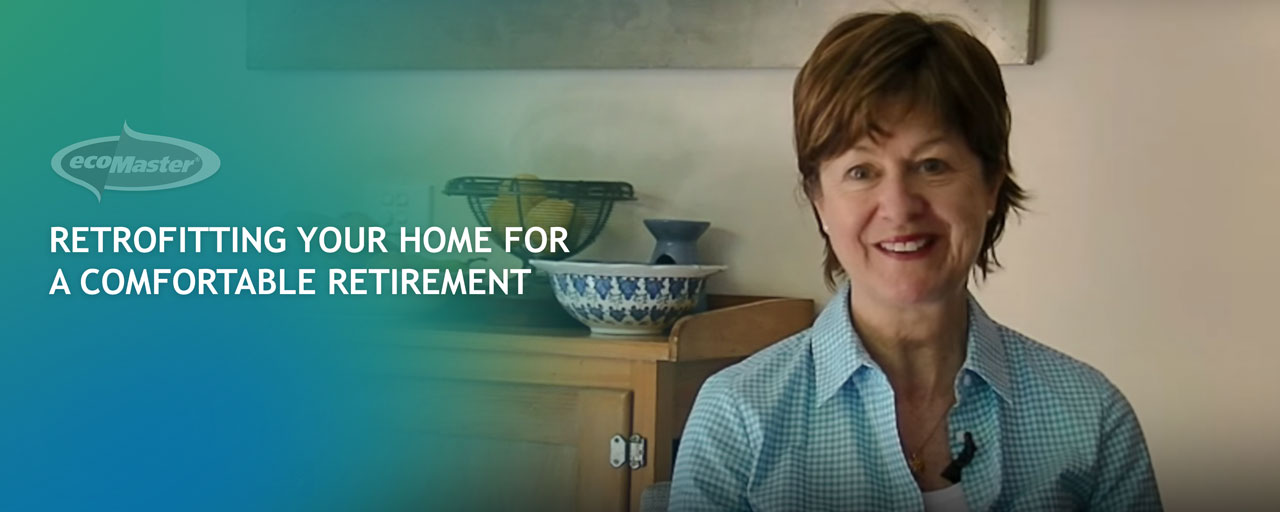 Preparing for retirement the smart way, Viv decided to make some changes to improve the thermal comfort of her home and be protected from rising energy costs too.
She could feel draught coming in all over her home. She understood that all of her expensive heating was leaking out whilst leaving her living spaces chilly. Viv then decided to retrofit her home for thermal efficiency, that is, to boost her home's thermal comfort using minimal energy.
After having ecoMaster install architectural draught proofing solutions she couldn't believe how little heating she needs now!
"As we get closer to retirement we do think about how to reduce our costs, about expenditure we need to make before we retire … "  
Viv shares her story in the video below.
VIDEO TRANSCRIPT:
"We spend most of our time in this back room here, it catches the winter sun, which is beautiful and in summer we've got the lovely trees which gives a nice shaded canopy, and we spend a lot of time in our courtyard as well.
We contacted ecoMaster because we did have a very cold winter this year and we were running our heating but we just weren't feeling all that warm and I could really feel draughts coming in and if I went up to the doors and put my hand against the door I could just feel the icy air seeping in, which, of course, was just undoing everything our gas heating was doing
As we get closer to retirement we do think about how to reduce our costs, about expenditure we need to make before we retire and that was definitely part of the decision making process to get the draught proofing done because we know that costs are going to go up and we certainly want to hold that back as much as we can.
When ecoMaster arrived at my house the first thing I thought was that I've got a couple of ghostbusters walking in, they had backpacks, computers… they came in here and took over the table and laid everything out and I was quite impressed and a bit surprised, I think, at the extent of the audit that they did of my house.
We notice immediately that the gas heating wasn't rebooting as much, in fact we got up a couple to check a couple of times to make sure it was still on.
It was just instant, it was instantaneous and we were pretty blown away really.
ecoMaster products and service I thought were excellent, I couldn't fault it, I couldn't fault their service.
They communicated well, they kept me informed about who was coming and when and then when I saw the products that they use, when they came to the house and demonstrated the products, you know, I just thought they were a fabulous product.
Of course I'm conscious of the aesthetic value in my house, with anything I do, I'm pretty particular. But it was lovely to see that you could have something fitted retrospectively and they would colour match it, that was impressive.
It's not an industrial look, you know, it's smart. And they obviously understand that you want it to look nice as well, not just be practical.
Since I had ecoMaster in to do the work in my house I have been spreading the ecoMaster love, because I was just so impressed with the results we got.
I just can't think of anyone who wouldn't benefit from it."
Retrofitting your home for thermal efficiency is one of the best retirement investments you can make today. Start off by getting an ecoHome Assessment to have a deeper insight of your home's energy efficiency performance. An ecoHome Assessment also gives you retrofit solutions specifically tailored to your home's needs.
Get access to a thermal comfort that lasts