Having the best insulation available is a great start to making your home more comfortable, however, the performance of your insulation also depends on how well it's installed.
This page contains instructions on how to carry out an ecoMaster quality job when installing your underfloor insulation. This ensures you a neat job that's carried out safely and delivers the best and longest-lasting outcome possible. Follow along with our video or the step-by-step instructions below!
We wish you a safe and successful installation experience and know you'll enjoy the superior comfort of a properly insulated floor.
Here's how we do it at ecoMaster …
Step-by-step installation instructions:
You will need:
Only use a double insulated stapler to protect from electrocution
Use galvanised staples with 8 to 10mm leg length
Good lighting
Snap blade knife
Tarps to drag insulation over (to keep the rolls clean)
Personal protective equipment:  Goggles (eye protection) and face mask
Installation instructions:
Layout tarps under the floor, one area at a time.
Setup good lighting and always work with at least one buddy.
Insulation rolls are fitted between the floor joints up against the floor.
Staple through the insulation by pinching the bottom edge to the joists and bearers.
Do not staple through the middle of the roll.  This will reduce the efficiency of your insulation.
Fix staples every 100mm to 150mm along the edge of the roll.
Ensure no gaps are left unstapled as this will allow draughts to enter.
Mark the path of electrial cables with spray paint so they can be easily located in future.
DO NOT STAPLE ELECTRICAL CABLES.  THERE IS A REAL RISK OF ELECTROCUTION.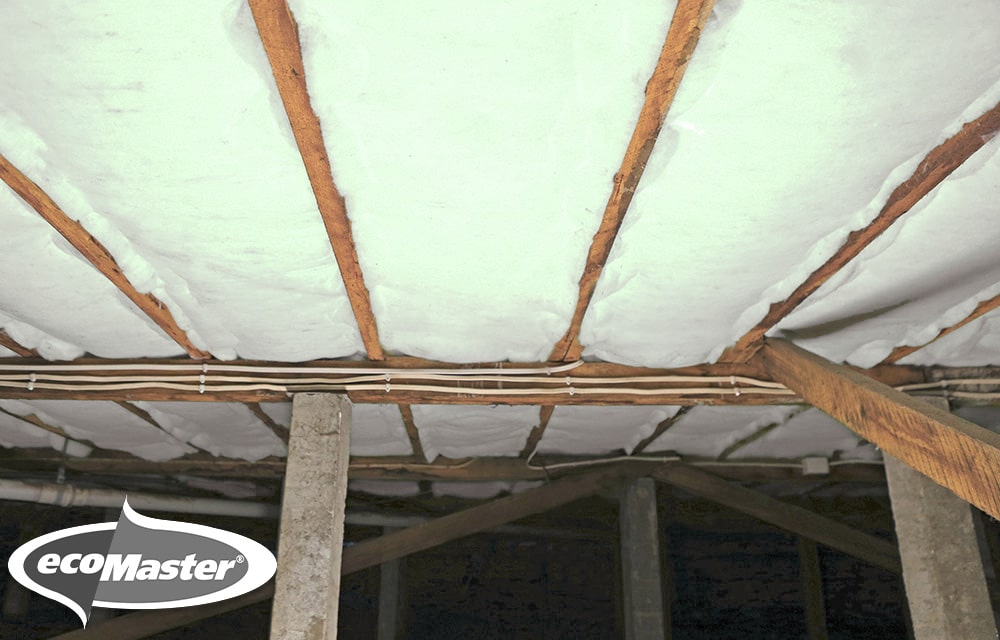 Insulation Installed from Below
To achieve the best possible outcome, ecoMaster always recommend installing insulation from underneath a home. This ensures that the material is pushed up and held firmly against the floorboards offering the best possible insulation value and allowing you to staple the end of each roll into the floor, effectively blocking any rodent access points.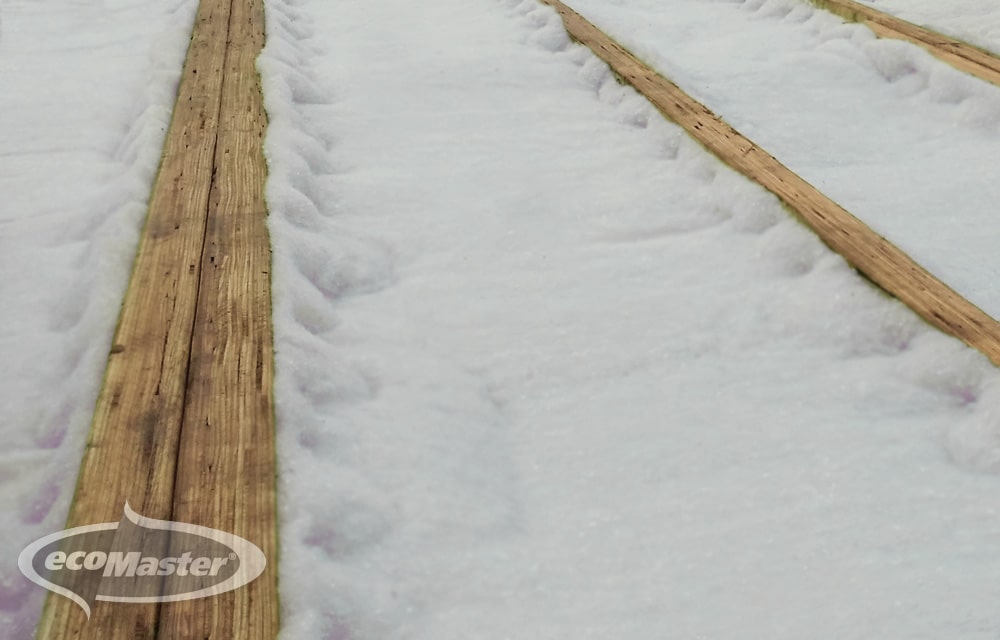 Insulation Installed from Above
As a guide, ecoMaster require a minimum clearance of 40cm beneath a floor to be able to install underfloor insulation from below to ensure the best outcome. Where there is inadequate access beneath the home, it is possible to install the insulation from above. The same installation instructions apply when installing from above, but inverted as shown here.