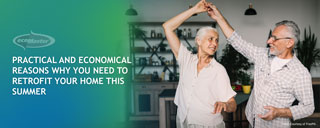 A well-planned home retrofit plan that puts your comfort and financial situation first can improve the quality of your life for years ahead. Here are five good reasons why upgrading your insulation and draught proofing your home is the most sensible thing to do in summer:

1. Retrofitting your home for thermal efficiency helps lower your energy consumption.

Energy consumption during summer soars uncontrollably driven by rising temperatures and increased demand for home cooling. The only way to counter the effects of this phenomenon is by improving your home's thermal performance; that is by draught proofing and boosting your insulation to block the entry of heat from the outside and keep your cooling from escaping.
Without proper insulation, heat gain through your ceiling can amount to 35 percent. Heat gain through your walls and windows may climb up to 25 and 35 percent respectively. Improving your thermal performance will also have positive effects in the wintertime as insulation acts as a barrier that prevents the cold air from penetrating your home. You can remain comfortable day and night amid shifting temperatures without overworking your air conditioning systems, thus minimising your energy use throughout the season.
2. Heatwave is seen to get worse across Australia.
According to research, an increase in the frequency and intensity of heatwave (defined as a period of at least three days where heat stress is unusually high) occurrences in Australia has increased between 1951 and 2008. As of this writing, the Bureau of Meteorology (BOM) has forecasted record-high average temperatures across all regions in the country to have reached 40°C (the hottest day being 46°C in Mildura, Northwest Victoria). Experts say that "human-induced" climate change, specifically the increase of greenhouse gases and sulfate aerosols released into the atmosphere, has largely contributed to the worsening of heatwave conditions.
On a grander scale, improved urban planning, house design, and planting more shade trees can mitigate the effects of heatwave. But on the household level, dependence on cooling appliances to stay comfortable in the hot days isn't the best course of action. Peak demands in cooling energy can trigger risks of overloading electricity grids which can likely result in blackouts.
One of the best strategies to stay cool without driving up energy demands is retrofitting your home for thermal efficiency. Approaches like double glazing your windows, sealing your doors and windows, and improving your insulation system can all help in maintaining comfortable indoor temperatures.
3. Sweltering temperatures pose health risks to children and the elderly.
Heatwaves are considered as the deadliest form of natural hazard in Australia. The vulnerable population including babies and older individuals need utmost protection during the hot days.
Severe heat can cause illnesses among the elderly which include dehydration, heat stress, and heat stroke. Extreme heat may also aggravate pre-existing diseases like lung, heart, and kidney diseases. Babies and children are also at a higher risk of becoming unwell in extreme temperatures because their bodies cannot adjust well to the heat like adults.
In worse cases, heatwaves can cause death. During one of the largest heatwave that struck Australia in 2009, emergency centers in Victoria noted a significant increase of heat-related deaths in the region. A spike in cardiac arrest incidents among elderly people was also observed.
The uptrend of deaths was due in part to:
Many households are not "heatwave-ready"

The majority of Australians have a poor grasp of the gravity of the heatwave problem

When temperatures rise the supply of electricity can be disrupted due to extreme demand, leading to brownouts or blackouts.

With extremely high temperatures, the risk of fire incidents increases and the supply of electricity can be disrupted by the energy distributors to minimise fire risk and safety concerns.

Homes

with poor levels of

insulation

and ineffective air conditioning tend to be hotter than outside, then retain that heat into the evening.
If you have children and elderly folk at home, retrofitting will help prevent your home from becoming a huge oven in the middle of a hot day. Refer to this article to learn simple and inexpensive ways to retrofit your home in preparation for summer.
4. High energy prices are the new normal.

Sudden changes in the supply of energy in the National Electricity Market (NEWM) have spurs significant electricity price increases over the past 10 years. Households that solely rely on electricity to support their heating and cooling needs will need to find ways to minimise their energy spend as high electricity prices are here to stay.
According to a report released by the Grattan Institute, this trend is caused by the recent closure of huge, coal-fired power stations including the Northern in South Australia in 2016, followed by Hazelwood in Victoria in 2017. Another driver of the jump in electricity prices is the rapid rise of gas and coal prices as Australia embraced world parity pricing.  This made running costs for electricity generators much more expensive. These generators have pushed up prices to cover the cost.
It will take stable energy and climate change policies from the Federal Government to manage wholesale and retail electricity costs. The Institute for Energy Economics and Financial Analysis also projects that the addition of renewable energy and pumped hydro storage capacity to the system would lower the prices in the long term. But until all these materialize, consumers must find ways to minimise their energy spend.
From an energy efficiency standpoint, households can curb their heating and cooling requirement by making their homes more thermally efficient. Installing insulation, upgrading your draughty windows, and draught proofing sources of air leakage are all beneficial in keeping your energy use to a minimum. These solutions slow down heat flow in and out of your house so less energy is needed to heat and cool it.
Other approaches that help you cut back on your maintenance cost are:
Switch to LED bulbs and energy-saving appliances

If you're using gas heating, go full electric. Gas heating

has a lot of disadvantages

in terms of safety, cost, and environmental impact. You may replace it with reverse-cycle split system air conditioners as they are safer and much more cost-effective to run.
Stay safe and comfortable in the home that you love this summer.
Retrofit your home now for a much-improved quality of life. If you need an expert guide to walk you through the ins and outs of thermal efficiency, contact ecoMaster. We've been in the business of making Australian homes more comfortable for less energy for nearly two decades now. Call us on 1300 326 627 or email [email protected] for inquiries.