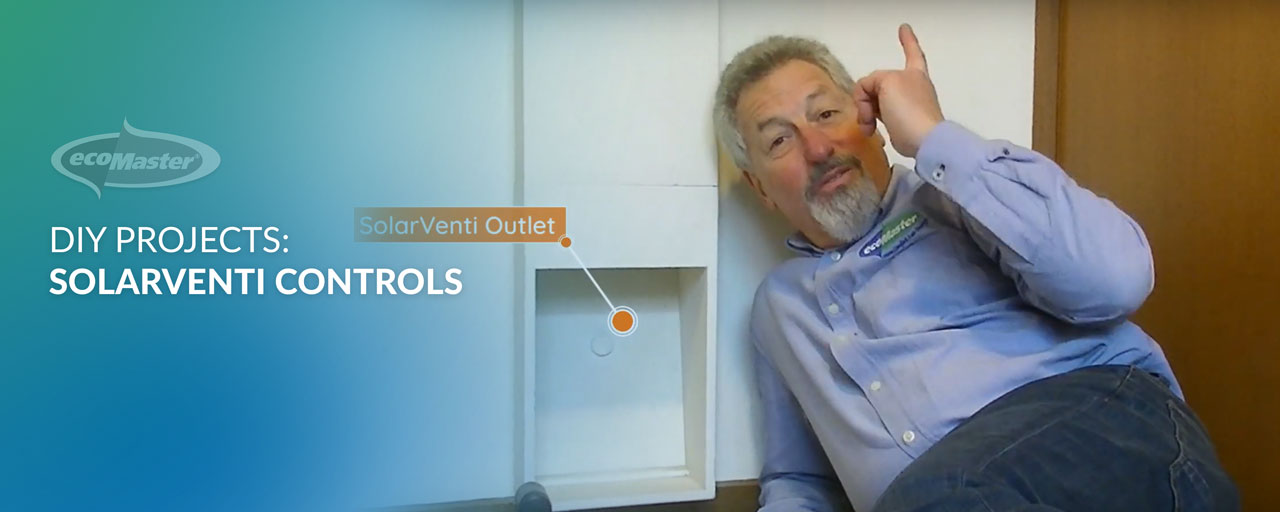 Solarventi Outlet
This is the outlet for the Solarventi that we first saw on the roof. It's a simple MDF box that leads from the ceiling down to the floor. The Solarventi has a flexible duct that adapts to the top of the box. So, the warm air comes down here, and maybe you can hear it going? I can certainly feel quite a nice warm airflow on my hand, even though there's not really very much sun at the moment.
One of the things that we did was to organise this so we could direct this airflow into two rooms. At the moment
we're in the ensuite, which is a dead air space. It has no opening window and so, usually, the warm air is directed in
here to dry out the shower. But we can direct the airflow into the other room which is the master bedroom. It's quite a simple arrangement that just works brilliantly well.
The other part of the Solarventi is the control system. I was explaining earlier that the box on the roof that draws air from outside through the backplate, heats it up, passes it down the shoot into the ensuite or the master bedroom. The last part of the puzzle is actually the controls. The bottom control here is a speed controller for the fan so you can slow the fan down if you wish. It's a solar-powered fan, so I just leave it on full. The other part is the thermostat. It's just a really simple thermostat and when it hits the set temperature, the system is going to change from pouring in heat to energising the extraction fan. That's it.
In the wintertime, we normally set it up to a reasonably high temperature, so there's no risk of it switching to cooling
mode. I really love the simplicity of this – it's a beautiful thing.
We have been helping thousands of Australian homes and commercial buildings achieve lasting thermal comfort with less energy since 2004. For queries, get In touch via our Contact Form