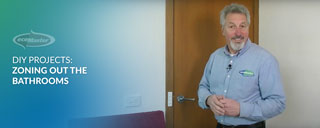 Zoning Out the Bathrooms
When we heat our home, it's a good idea, not to heat areas that you don't really need to heat. And for us, it's zoning out the wet areas. It's the laundry, toilet, and bathrooms.
We treat the doors (as in draught-proof them) and keep them closed. Now here's an interesting thing – if you've got little kids, it's pretty hard to keep them closed! But we don't have little kids. So this door has been treated with an experimental perimeter seal and just a regular brush on the bottom.
So when we close it, it's pretty well draught proofed. We can leave the window open if we wish to ventilate the bathroom. It's not going to affect the rest of the home. Another thing that's in this bathroom, is that we've treated the exhaust fan with a draught stopper, and we'll have a look at that when we get in the roof.
We have been helping thousands of Australian homes and commercial buildings achieve lasting thermal comfort with less energy since 2004. For queries, get In touch via our Contact Form