Are you confident that your home can protect you from summer heatwaves? Are you sick of skyrocketing energy bills every time summer rolls around?
Get greater thermal comfort all year round without exhausting your energy and money. Here are five energy-efficient ways to make your home summer-ready for years to come!
1. Clean your air conditioning unit
Maintaining the cleanliness of your air conditioner is essential in ensuring its efficiency. Blocked and poorly maintained filters slow down the performance of your unit. Worse, it can affect your indoor air quality and even cause the unit to malfunction.
Most likely, you will be using your A/C for extended hours during summer with the forecast spikes in daytime temperatures. Make sure to clean your filters or replace them if needed for healthier air quality. In addition to cleaner air, keeping your air filters clean also helps in reducing your energy consumption by 5% to 15%.
Check and clean your filters twice a month throughout the summer, particularly if there have been dust storms.
2. Install window coverings
Window coverings can help block sunlight and prevent radiant heat from penetrating your windows. Strategic use of window coverings can lower heat gain by up to 77%. Not only are they useful in summer, but window coverings also aid in stopping heat loss in winter.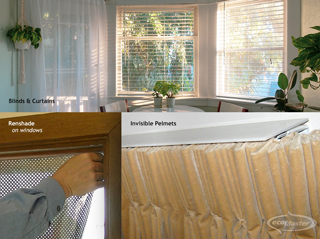 These window coverings can help you save energy and make your home more comfortable:
Awnings

– Usually made of canvas or metal, awnings are installed on a home's exterior to protect your rooms from solar glare and heat. Window awnings come in fixed and retractable types. Choose light-coloured awnings for better light reflection.

Curtains and drapes

– The easiest way to minimise heat gain is by fitting curtains and drapes on your windows. To keep out as much heat as possible, choose the light-coloured fabric with a heavy backing and hang them close to your windows.

Blinds

– Both vertical and horizontal blinds are a popular privacy screening but do little to curb heat gain. One of the advantages of using blinds is that you can control the amount of light and glare by simply adjusting the slats. Managing heat loss through interior windows blinds, however, can be difficult.

Invisible pelmets

– Boost the thermal efficiency of your drapes through

an

invisible pelmet

. It is a light, low-cost strip of acrylic fitted to the top of a curtain rail and does not affect the aesthetic appeal of your windows, unlike its boxed-shape counterpart. Acting in a similar way to box pelmets,

invisible pelmets

eliminate the convection current of hot air from your windows.

Renshade Reflective Foils

– This is the best solution for averting the heat of the sun away from your laserlite pergola. Made of foil-laminate, it is a perforated silver material specially made to shade windows and pergolas. 

Renshade

can be easily removed, rolled up and put aside during the colder months.
3. Know when to open and close your doors and windows
Keep the sun out of your home by closing your doors and windows during the hottest time of the day. Open them at night to vent out the hot air. As much as possible, avoid running your fans or air conditioner on full blast to keep your energy spend at a minimum.
4. Seal off draughts and ventilation leaks
Check your doors, windows, floorboards, and vents for gaps and cracks. While it's great that your air conditioner is perfectly blowing cool air throughout your rooms, this can go to waste in the presence of draughty doors, windows, floors, and air vents. These seemingly tiny holes can leak out your cooled air and draw in hot summer winds from outside
If you do find sources of air leaks, seal them right away with these cost-effective DIY draught proofing solutions:
Draught Dodgers and Draught Excluders

– These two

draught proofing

components are the best duo in applying a tight seal around all types of doors and windows.

UltraClear Invisible Sealant

– This

flexible, odour-free sealant

that is white when applied but turns clear as it dries is used for sealing gaps and cracks found on wooden floors, skirting boards, architraves, and air vents.
5. Beef up your home insulation
Insulation is the most cost-effective solution to increase your home's energy efficiency and maintain your thermal comfort all year round. It serves as a barrier that obstructs movement of the summer heat into your home, keeping your rooms cooler even amid the peak of a heatwave. Insulation also prevents your cooled air from escaping.
A high-quality insulation material like polyester can give you the maximum protection you need in summer as well as in the winter time. It is non-allergenic, doesn't hold moisture, and is rodent-resistant. Polyester doesn't shrink and loses its effectiveness so it's guaranteed to last up to 50 years.
These three types of polyester insulation can give your home the protective benefits during the sweltering months:
Ceiling insulation

– Stops the heat that hits your roof from descending through the plasterboard ceiling and into your rooms.

Wall insulation

– Prevents heat flow through your walls and reduces outside noise.

Underfloor insulation

– Stops outside air from rising through your floor and up to your rooms.
Implement these this summer to stay comfortable in your home without burning cash on your cooling bills. If you need assistance in improving your comfort in the most energy-efficient way possible, contact ecoMaster. We've been making Australian homes more comfortable with less energy for nearly two decades now. For your draught proofing, shading, and insulation needs, call us on 1300 326 627 or visit www.ecoMasterStore.com.au
Contact ecoMaster, the experts in energy efficiency
If you're looking for high-quality draught proofing solutions and insulation in Melbourne, contact us at 1300 326 627 for inquiries and orders.
Browse through our wide range of effective and affordable energy efficient solutions at www.ecoMasterStore.com.au.