Under your floor, you might find joists that are extra wide or narrow. Using our 'Turn and Tear' method, you can make your underfloor insulation fit perfectly, regardless of your joist spacing.
This is exactly the same technique that professional underfloor insulation installation crews manage to insulate uneven joist spacings.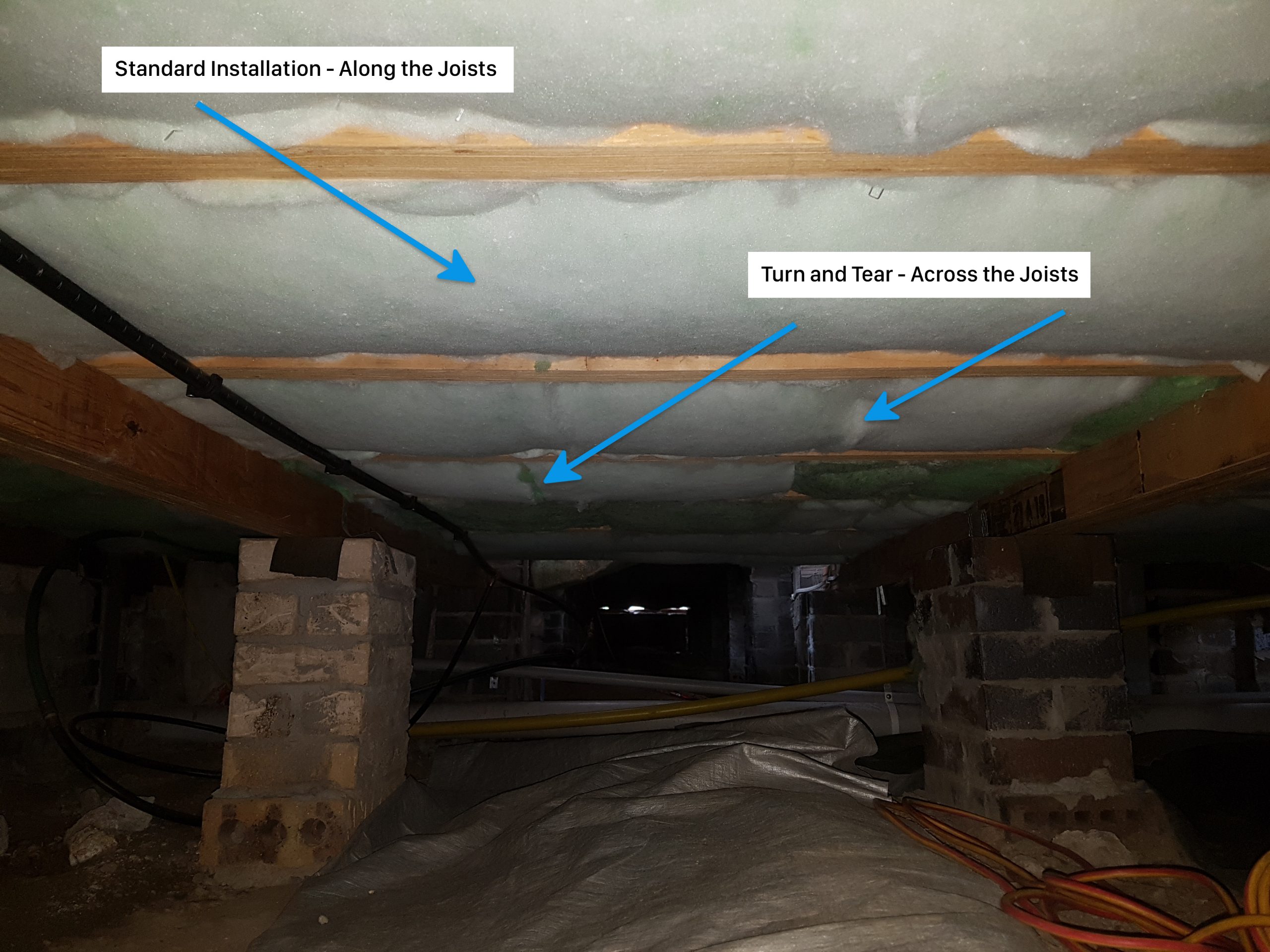 Typical joist spacing is 430mm, so our 450mm width insulation fits snugly between them. There are, however, exceptions to this standard sizing. Sometimes we encounter entire homes with narrow joists or joists that are extra wide. Usually, there are just a few rows of odd-width joists near the home's edges, since not all homes are large enough for a neat row of standard-width joists.
So When the joists are too wide or too narrow to fit standard 450mm insulation, what should we do?
'Turn and tear' your insulation is the answer. Designed to tear easily in one direction, our premium polyester insulation can easily be torn from one side to the other. This means you can create sections that are the exact width you need to fit between your wider or narrow joists.
One by one, align the torn sections between the joists, stapling them in place.
Here's a step by step how to install insulation in non standard joist spacings – regardless of whether they are too wide or too narrow:
Rotate your insulation 90°
Tuck the end into the joist space next to the first joist
Measure to the outside edge of the next Joist (this gives you a little extra wide for a nice snug fit)
Tear the insulation cross ways (it is impossible to tear long ways) 
Press the new end piece in between the joists and secure by stapling as normal along the inside, bottom edge of the joist
Pinch and staple the sides into the floor to ensure there is no room for air movement and rodent access
Repeat to fill the whole space
And in true ecoMaster form, check video below
that shows our Technical Director, Maurice Beinat, demonstrating how we install polyester insulation using this stapling technique that is unique to polyester.
People Also Ask:
⇒
Where can I learn more about installing sub floor insulation?
ecoMaster has been working in the energy efficiency/retrofit arena for over 20 years.  During that time we learnt an enormous amount about diagnosing issues, distinctions on various products as well as developing the best installation practices.  Basically, we have done the research, so you don't have to. All that information has now been condensed into a series of ecoMasterClasses.  Click here to get your Underfloor Insulation Masterclass.
⇒
How can I buy Underfloor Insulation from ecoMaster?
You can buy Underfloor Insulation from the  ecoMasterStore. We also supply staples, and if you are in Victoria, you can rent a stapler kit as well.
⇒
Will you delivery Underfloor Insulation to my home?
In the vast majority of cases, yes we can deliver to your home. If you live in a more remote location, give us a call to find out. Ph: 1300 326 627.
What's Next?
We hope this article has helped you learn how to use simple ways to save on your utility bill. This in turn will help you on your energy and thermal efficiency retrofit journey to make your home more comfortable all year round, and reduce your costs and carbon emissions.   
Next, explore What is R Value, and what do you need to know to insulate your home efficiently.
If you found this article helpful, then please subscribe to our YouTube Channel. You'll find many more helpful "How To" videos there. You can also follow us on Facebook and Instagram to stay in the loop.
For more great information on how to make your home more energy and thermally efficient subscribe NOW to ecoBites. ecoBites are free bite size chunks of the latest energy efficiency information making it quick and easy for you to absorb. 
Insulate your Underfloor Now
Your uneven joist spacings are not a problem anymore!