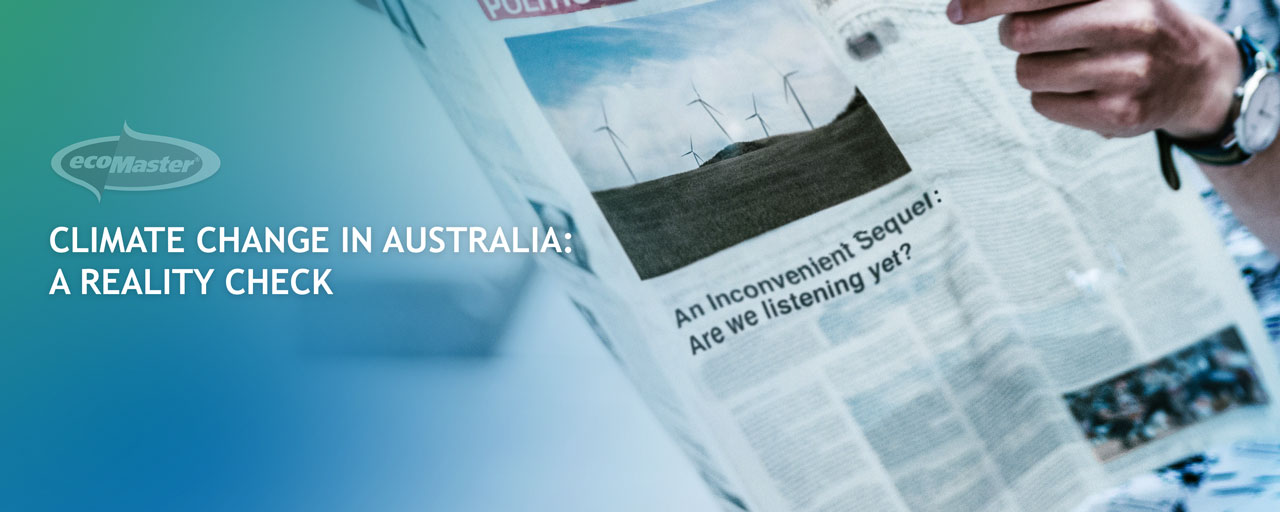 In 2007, Alastair Fleming had a climate change reality check and began his journey towards a more sustainable future.
Today he  is an official Climate Leader, trained by Al Gore himself to deliver a very important presentation. In this interview, Alastair shares what it means to be part of the Climate Reality Project.
1. What is the Climate Reality Project?
In 2007, I saw An Inconvenient Truth, the Academy Award-winning documentary about climate change, produced by Nobel Laureate and former U.S. Vice President Al Gore.
That experience brought the climate crisis into the here and now for me, confirming that the rigorous work performed by the science community was proving to us that climate change was happening and its effects could be disastrous.
The extraordinary reaction to the film encouraged Mr. Gore to take further action, and as a consequence, he founded The Climate Reality Project as a climate change leadership program.
It is a not-for-profit organisation with a mission to educate the public about the harmful effects of global warming, to advocate for climate change policy, to counter climate change denial campaigns and to work toward solutions at a grass-roots level worldwide.
In Australia, The Climate Reality Project has partnered with the Australian Conservation Foundation to deliver the message:
Today, climate disruption is the biggest challenge humanity has ever faced and we know carbon pollution is to blame.

We also know that solutions are right in front of us. We can create a healthy, sustainable, and prosperous future by making a global shift from dirty fossil fuels to clean, renewable energies like solar and wind.

Our leaders aren't going to do it on their own. So we're bringing millions together to make them, demanding change with a collective voice so loud and forceful they have no choice but to help shape the clean-energy future we need.
2. What does it mean to be a Climate Leader?
It was a huge privilege to be invited for training by Al Gore and the Climate Reality Project and to hear first hand from some of Australia's leading scientists and experts.
The training helped to build on my knowledge and understanding of the complex issues of man-made climate change, its effects and consequences.
I'm now involved with a global network of more than 6000 dedicated people worldwide – the Climate Reality Leadership Corps – active in 117 countries. This network of people from all walks of life is a fantastic resource, a veritable bank of knowledge!
And with access to the most up to date information and data, I have a much clearer understanding of the science, the effects, the opportunities and the political motivations that drive the climate change debate in our society.
As a Climate Leader, it is my role to actively inform and educate the public and my community about the harmful effects of climate change and that solutions are possible, both locally and at a global level.
My training allows me to deliver an updated version of the slide show featured in 'An Inconvenient Truth'. With the presentations and through a variety of actions, I hope to encourage and help people better understand that it is possible to take effective action through the choices we make, and that we can do it now.
3. How do you see retrofitting for thermal efficiency fitting into this vision?
Although much of the discussion for reducing our carbon emissions currently revolves around renewable energy systems, the IPCC has stated that by changing our everyday energy habits, the energy demand from buildings could be halved by 2050.
Buildings accounted for nearly one third of global energy use in 2012.
Energy efficiency is the "lowest hanging fruit" when it comes to energy saving and greenhouse gas emission reduction. It is one of the key areas where each person can make a real difference.
But there is no need to go all 'hair-shirt' about it!
Simple changes in behaviour are great – it costs nothing to switch off lights and turn down the thermostat.
When we moved to the Macedon Ranges, it surprised me just how many houses were inefficient – single glazed and poorly insulated.
By retrofitting older buildings, and making sure new ones are built to higher standards, means significantly more energy savings can be made.
Most of these measures – such as insulation, draught proofing, and shading – can be inexpensive and the costs can be recouped over a short period of time.
The IPCC has also suggested that there are other benefits to using energy more sensibly, such as increased productivity and quality of life.
4. If you could give householders one piece of advice, what would it be?
Right now, get informed and get active.
There is an enormous amount of climate change and renewable energy disinformation in the public consciousness in Australia. For action to happen, this must change.
There is no doubt. We are experiencing the effects of the Climate Crisis right now, with 2014 likely to be declared, globally, the hottest year on record.
While the rest of world makes significant strides towards a clean energy future, Australia's leadership is systematically dismantling all the opportunities for Australians
to benefit from the massive progress being made in the renewable energy sector.
To quote Mr. Gore:
We're way past time where it's responsible for any national leader to reject the science behind the climate crisis. This is the biggest challenge that our civilization faces and we need to get on with solutions."
Huge advances are being made in green technologies, and with costs falling dramatically, it's now time where householders can actively make changes to the way they use energy.
With solar panels now installed on more than 1 million Australian homes, this speaks loudly of householders wanting to not only reduce their energy bills but also effortlessly reduce carbon emissions!
5. What changes have you made to your own home and lifestyle to become more sustainable?
Many organisations, from government departments to environmental groups and even electricity retailers, all have tips and suggestions for energy efficient and more sustainable lifestyles.
So here's some of what we do:
a) I'm informed and I'm active – Go ahead, join a sustainability group.
b) Switched to Green Power – The equivalent amount of energy we use must be generated from renewable sources.
c) Take Public Transport and Drive Much Less – This can be difficult living in rural Victoria, but if you are a commuter, why not take the train in to Melbourne.
d) Eat Less Meat – As a household, our consumption of meat, fish and poultry is over 10 times less than the Australian average.
e) Gas Fired Solar Hot Water – Electric hot water is the most expensive and (unless you are using Green Power or renewable energy) the source of a quarter of your greenhouse gas emissions.
f) Choose Energy Efficient Appliances, LED and CFL Lights, and Switch Off Anything with Standby Power – There are a variety of switchable power boards available, meaning you don't have to rummage around behind everything to get to the power point!
The challenge for people who rent their homes is to find ways to make a difference without wanting to make permanent energy-saving upgrades.
The challenge for landlords is to be motivated to install efficiency measures, even though it is tenants who will see the short-term benefits through their utility bills.
It is encouraging to think, that as people become more informed, we will start to demand more rigorous legislative requirements for energy efficiency as part of a suite of actions to tackle the Climate Crisis and rapidly draw down Australia's carbon emissions.
If you would like to book a Climate Reality Presentation, please contact Alastair on 0412 178 408.
---